Literature in 30 Seconds or Less!: 100 Classics Cut Down for the Pace of the Modern World (Hardcover)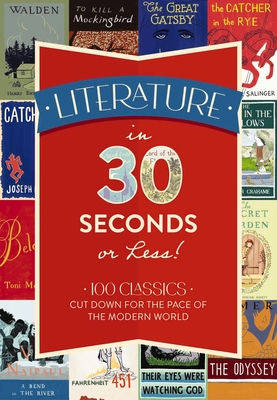 $14.95

Usually Ships in 1-5 Days
Description
---
Build your brain and blitz through the canon with Literature in 30 Seconds of Less!, a collection of illuminating synopses of the great works.

Bursting with illuminating synopses of humanity's great works, you no longer have to lower your gaze when the conversation turns to the classics. Instead, you'll be able to dazzle any dinner party, keeping everyone entirely unaware that English class was code for naptime throughout your time in school. But it's not just about impressing others. Each of these small windows is a perfect opportunity to fuel your imagination and discover the books that speak to your soul.
About the Author
---
Tim Rayborn writes on a variety of historical and musical topics, from the Middle Ages to the early twentieth century. He has a PhD from the University of Leeds in England. He is also a professional musician, with a specialty in medieval repertoire, and the author of Weird Dance, Beethoven's Skull (Weird Music!), and Shakespeare's Ear (Weird Theater!). He lives in Berkeley, California.