Talent Development in School: An Educator's Guide to Implementing a Culturally Responsive Talent Identification and Development Program (Paperback)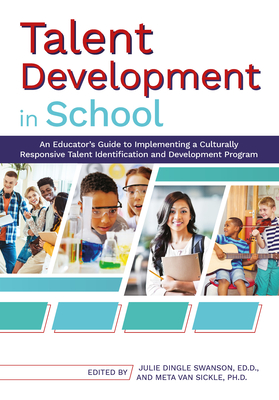 for information about purchasing this book, please contact orders@bookpassage.com
Description
---
Talent Development in School helps educators utilize research-based curriculum and strategies to implement talent development in the classroom. This practical guide:
Focuses on a talent development model that is centered on teacher learning.
Highlights talent development's impact on culturally, linguistically, and economically diverse learners.
Details how to apply the talent development model in one's school or district and opening access and opportunity to all students.
Reviews current theories, concepts, and research on talent development in the field of gifted education.
Is perfect for teachers, coordinators, and administrators.
Talent Development in School features techniques for culturally responsive teaching and considerations for how psychosocial skills and noncognitive influences on learning--such as motivation, grit, resiliency, and growth mindset--affect talent development. Written by experts in the field, this book will become a go-to for professional learning and development.
About the Author
---
Julie Dingle Swanson, Ed.D., has taught in and coordinated K-12 gifted education programs and directed federal projects for underrepresented gifted students.Meta Van Sickle, Ph.D., is a professor at the College of Charleston. Meta graduated from the University of South Florida with a Ph.D. in 1992.