Osnat and Her Dove: The True Story of the World's First Female Rabbi (Hardcover)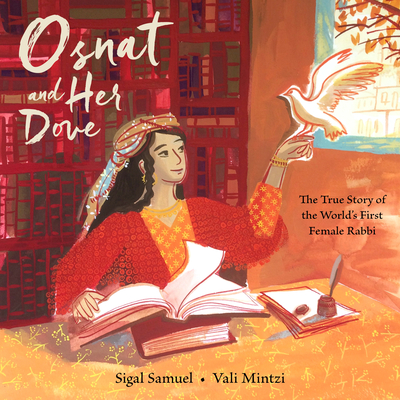 Description
---
A Junior Library Guild Selection
Canadian Jewish Literary Award Winner
National Jewish Book Award Finalist
Evanston Public Library's 101 Great Books for Kids
School Library Journal Best of the Year
Tablet Best of the Year

★ "A vibrant life story, with imagined conversations and brilliant illustrations, that will find a home in every collection"—School Library Journal (starred review)

★ "This dynamic and respectful picture book envisions the life of a prominent 17th-century Jewish leader who defied gender norms."—Shelf-Awareness (starred review)

"A rich portrait of an early female Jewish hero."—Publishers Weekly

"Osnat and Her Dove is an inspiring story of a young Jewish hero, filled with wonderful cultural, religious and historical detail. It's a testament to the power of knowledge and the importance of parental support."—BookPage

Osnat was born five hundred years ago – at a time when almost everyone believed in miracles. But very few believed that girls should learn to read.

Yet Osnat's father was a great scholar whose house was filled with books. And she convinced him to teach her. Then she in turn grew up to teach others, becoming a wise scholar in her own right, the world's first female rabbi!

Some say Osnat performed miracles – like healing a dove who had been shot by a hunter! Or saving a congregation from fire!

But perhaps her greatest feat was to be a light of inspiration for other girls and boys; to show that any person who can learn might find a path that none have walked before.
About the Author
---
Sigal Samuel is an award-winning novelist and journalist. Currently a Staff Writer at Vox, she previously worked as Religion Editor at The Atlantic, Opinion Editor at the Forward, and Associate Editor at the Daily Beast. She earned her MFA in Creative Writing from the University of British Columbia. The Mystics of Mile End, her debut novel, was nominated for the International Dublin Literary Award and won the Canadian Jewish Literary Award and the Alberta Book Publishing Award. Sigal hails from an Iraqi Jewish family in Montreal, and now lives in Washington, DC.

Vali Mintzi is an illustrator of children's books, a graphic designer, and puppetry designer. She was born in Romania and she graduated from the Bezalel Academy of Art in Jerusalem where she lives and works. The New York Times praised her artwork for a picture book by Rita Jahan Foruz, saying: "The Girl With a Brave Heart is strikingly enhanced by Vali Mintzi's exquisite naïf illustrations, which seem a happy meeting of Gauguin and mid-career Matisse."
Praise For…
---
[STAR] "A vibrant life story, with imagined conversations and brilliant illustrations, that will find a home in every collection"-School Library Journal (starred review),


"An exploration of Jewish heritage and mysticism; a deeply feminist but not at all didactic tale with magical prose. It's adorned with gorgeous, vibrant gouache illustrations, full of colorful loose patterns created by the Israeli-Romanian artist Vali Mintzi. Mintzi's fluid brush line brings the characters to life and there's a particularly gorgeous spread of Hebrew letters." -The Jerusalem Post,


[STAR] "This dynamic and respectful picture book envisions the life of a prominent 17th-century Jewish leader who defied gender norms."-Shelf-Awareness (starred review),


"Osnat and Her Dove is an inspiring story of a young Jewish hero, filled with wonderful cultural, religious and historical detail. It's a testament to the power of knowledge and the importance of parental support." -BookPage,


"Samuel tells about Osnat's extraordinary life and seamlessly weaves in some of the many legends and miracles that were part of her life story. Fact and legend become one in an inspiring story of an exceptional woman." -Kirkus Reviews,


"A rich portrait of an early female Jewish hero." -Publishers Weekly,


"Mintzi's illus­tra­tions have an aston­ish­ing beau­ty. This remark­able book con­veys both Osnat's unusu­al life, full of con­tra­dic­tion, and the truth about women's poten­tial. When encour­aged to flour­ish, Osnat and oth­ers like her can heal the world." -Jewish Book Council,


"The striking and vibrant illustrations in "Osnat and Her Dove" pull young and old readers alike into Osnat's world."-The Times of Israel,