Visualization for Success: 75 Psychological Empowerment Exercises to Get What You Want in Life (Paperback)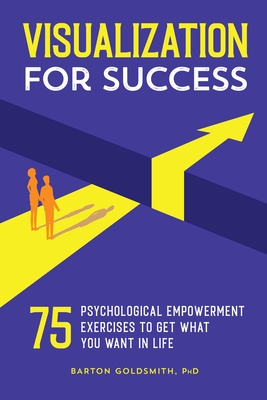 $15.99
Email or call for price
Description
---
Visualize your goals and manifest success—a scientific approach
Visualization is a simple, clinically proven practice that involves actively imagining the desired outcome of a goal to keep you on the path to achieving it.
Visualization for Success
can help you make positive changes in your life by guiding you through 75 psychology-based visualization exercises that put achievement at the forefront of your mind.
When you maintain a clear image of what you want, your feelings and behavior follow suit, changing your mindset to a healthy and productive one. Make this a habit with energizing and clarifying activities for letting go of past troubles, healing heartache, getting organized, and improving your future.
Visualization for Success
features:
The perfect starting point—These exercises are simple enough for anyone to do, and most only take about 15 minutes.
A two-pronged approach—Begin with the basics on how visualization works, then learn to apply it, with exercises for relationships, goals, and cultivating positivity.
The four stages of visualization—Learn to identify your objective, affirm your desire, picture your success, and release your fears and doubts.
Empower yourself by visualizing your goals and bringing them to life.
About the Author
---
BARTON GOLDSMITH, PhD, LMFT, is a licensed psychotherapist who also works in the media and entertainment industries. He's the author of eight books, a keynote speaker, and an internationally syndicated columnist.

Praise For…
---
"My experience as a physician and surgeon—working with cancer patients, and children and patients with a variety of mental and physical problems—has shown me that your body believes what your mind conceives. Barton Goldsmith's book Visualization for Success is a guide book for self empowerment and healing. He can be your coach as you create a successful end result of what you desire. All you have to do is show up for practice." —Bernie Siegel, MD, author of The Art of Healing, 365 Prescriptions For The Soul, and Love, Medicine & Miracles

"Visualization for Success is a guide to positive thought processes as the key to how we approach our lives. With keen insights into navigating intimate relationships, stressful situations, and personal goals, Dr. Barton Goldsmith offers a finely honed technique for the many challenges we face." —Susan Shapiro Barash, author of Tripping the Prom Queen, Toxic Friends, and The Nine Phases of Marriage.

"Barton Goldsmith's latest book, Visualization for Success, is a treasure of practical and easy to follow advice that applies to all of us. My own work in mindset training supports the theories and exercises in this book totally. You will not only achieve your goals faster, you'll also feel much better about life and yourself in the process. Read this book often!" —Jim Cathcart, professional mentor and author of The Power Minute.

"Who doesn't want a bunch of exercises to support their growth and transformation? Barton Goldsmith's book is excellently written; he's as smart as a whip!" —Rhonda Britten, founder of the Fearless Living Institute, inspirational speaker, best-selling author and actress