Parkinson's Disease Guide for the Newly Diagnosed: Understanding the Disease, Managing Your Symptoms, and Navigating Treatment (Paperback)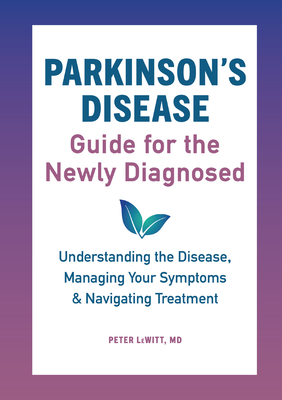 $15.99

Usually Ships in 1-5 Days
Description
---
Effective and modern treatment strategies for those newly diagnosed with Parkinson's
Whether it's you or a family member, receiving a diagnosis of Parkinson's disease can generate emotions of anger, frustration, sadness, and confusion—but you're not in this fight alone.
Parkinson's Disease for the Newly Diagnosed
is one of the most helpful Parkinson's disease books, giving you the tools to conquer those feelings of being overwhelmed and helping you to be better prepared for life post-diagnosis.
In one of the most extensive, up-to-date Parkinson's disease books, you'll find resources for maintaining realistic optimism while living with Parkinson's disease. With helpful information and advice from how to build a community and patient-caregiver relationships, to assembling your primary care team and more, there's practical advice for addressing what life will be like moving forward.
This standout among Parkinson's disease books includes:
Set expectations—Go beyond other Parkinson's disease books with an in-depth overview of all the stages from early to advanced.
Tailored for you—Use strategies for managing your symptoms that are straightforward and specifically designed for the newly diagnosed.
Positive, practical advice—Find out about support groups, how best to adapt your home, preserve your independence, and more in one of the most comprehensive Parkinson's disease books available.
If you're looking for Parkinson's disease books that help you understand and manage your symptoms,
Parkinson's Disease for the Newly Diagnosed
delivers results.
About the Author
---
PETER LeWITT, MD, is a board-certified neurologist and has directed the Parkinson's Disease and Movement Disorders Center at Henry Ford Hospital in West Bloomfield, Michigan, since 2007. In 1990, he was appointed professor of neurology at Wayne State University's School of Medicine, where he has received an endowed chair in PD research. Dr. LeWitt has also served as a visiting professor nationally and internationally.