The Apothecary Diaries 08 (Manga) (Paperback)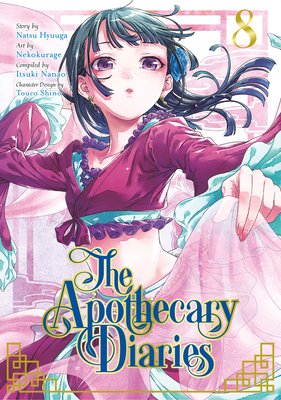 $12.99

Usually Ships in 1-5 Days
Description
---
After breaking a "curse" on the imperial heirs, a palace servant with training in herbal medicine is promoted up the ranks to food taster...and right into the thick of palace intrigue in this lushly illustrated historical mystery series!

The truth of Maomao's birth is revealed?!

Sly tactician Lakan's attempts at provocation lead to his own downfall when Maomao challenges him to elephant chess, only to outplay him in a game of wits!

In a stupor from drinking "poison" as punishment for his loss, Lakan dreams of a long-lost past, his affair with a beautiful courtesan, and meeting her daughter for the very first time.

Upon waking, he finds himself at Verdigris, where he is pressed to buy the freedom of a girl of his choosing and take her home as his wife! But will any of the flowers there catch his eye when his heart is in love with a memory?
About the Author
---
Natsu Hyuuga is the author of The Apothecary Diaries light novel series.

This is Nekokurage's first manga adaptation of a light novel series.