The Modern Salad: Innovative New American and International Recipes Inspired by Burma's Iconic Tea Leaf Salad (Paperback)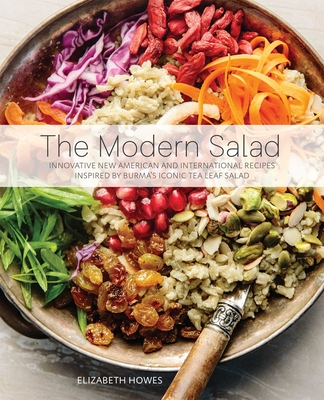 $19.95

Usually Ships in 1-5 Days
Description
---
Create delicious, highly nutritious salads at home with dozens of inventive recipes inspired by the incredible Burmese tea leaf salad.

Bursting with bold flavors, hearty ingredients, crunchy textures and brilliant colors—the salads in this book are a feast for your senses. The Modern Salad serves up protein- and superfood-rich recipes that are artfully presented in a deconstructed format, including:

• The Charcuterie Board Salad with Mustard-Maple Vinaigrette
• Grilled Peach and Corn Salad with Lemongrass-Shallot Vinaigrette
• Rainbow Carrot and Crispy Pita Salad with Coriander Vinaigrette
• Summer Fig and Caramelized Onion Salad with Aged Balsamic Reduction
• Grilled Calamari Salad with Spicy Kimchi Vinaigrette
• Masala Chai Braised Pork and Garlic Udon Salad

Professional chef Elizabeth Howes takes inspiration from the super-popular Burmese tea leaf salad to create innovative dishes perfectly suited for America's farm-to-table ingredients.
About the Author
---
Elizabeth Howes is a professional chef, food writer and owner of the private chef company Saffron Lane. She lives in San Anselmo, CA.