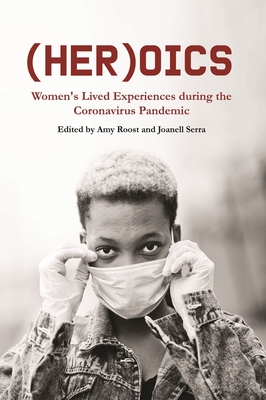 Description
---
"This well-timed collection is as compelling as it is cathartic." Buzzfeed News, "18 New Books From Small Presses That You Won't Want To Put Down"

The collection encompasses the perspectives of women who are: front-line responders and recovering patients; going out to work, staying home to work, and losing their jobs; living with multiple generations and living in isolation; women grieving loved ones and celebrating new love; women preparing to give birth and supporting the dying. Although differing based on location, age, race, and health, they share the unique capacity of women to bring their strength, ingenuity, and love—for others and for self—to an uncertain time. The anthology is inspired by both the risks of the pandemic inherent to women and their tremendous role in the country's response.
About the Author
---
Joanell Serra writes novels, plays, and creative non-fiction. Her novel The Vines We Planted was published in 2018 by Wido Publishing. A licensed therapist, Joanell is also the founder of Impactful Path Coaching and leads writing retreats and workshops. Her work and events can be found at Joanellserraauthor.com. Amy Roost is an author, journalist, documentary podcaster, and 2019 Annenberg Health Journalism Fellow. She is co-editor of Fury: Women's Lived Experiences During the Trump Era (Pact Press, 2020). Amy's writing has appeared in numerous print and digital publications including Ms. Magazine, Narratively, Talk Poverty, and Bitch Media. She is currently at work on a memoir based on "Finding Rebecca," a Peabody-nominated podcast she wrote and co-produced for Snap Judgment.
Praise For…
---
"I'm a proponent of sharing our truth. These womens' stories are raw and real. They make me want to cry, or laugh, or call them up and say this sh** happened to me too! We've got this. These women really are the heroines of the pandemic: nurses, doctors, teachers, badass moms, women having a mental health crisis, healers, grandmas... I love this." —Jennifer Pastiloff, best-selling author of On Being Human

"The homefront has always been inhabited by women, including anyone who identifies with and enters the space of "woman" -- caretakers and home keepers and compassionate community builders. This collection reminds us how the heart warriors never give up or in, which is the only reason we have a chance. Where are the purple heart medals for these legions of women. Secular Blessings on every one of their stories, every single body." —Lydia Yuknavitch, poet and author of The Small Backs of Children, The Book of Joan, and other titles

"This is a remarkable, kaleidoscopic record of a catastrophe that simultaneously struck us all. While physically isolating, we need emotional closeness and these essays are consolation for any reader who ever wondered, I can't be the only one feeling this, can I?" —Leigh Stein, author of Self Care 

"...these stories give proof to what some of us have known all along: that the challenges, deep service and heart opening of motherhood can be an enlightenment intensive. Motherhood in a pandemic is a master course." —Hallie Inglehart Austen, author of The Heart of the Goddess, Art, Myth, and Meditations of the World's Sacred Feminine, and Womanspirit: A Guide to Woman's Wisdom

"(Her)oics boldly tells the stories of the pandemic from many points of view, with fifty-two women sharing their personal stories of love and loss, joy and pain, caring and resilience. This is a collection of diverse voices that, together, brings the readers to covid-19 in a powerful way. Everyone will find stories that resonate." —Dr. Leana Wen, emergency physician and public health professor, George Washington University

"This well-timed collection is as compelling as it is cathartic." —Buzzfeed News, "18 New Books From Small Presses That You Won't Want To Put Down"

"Thom Atkinson, whom author Jim DeBrosse has called 'the best author you've never read,' shares an acute sensitivity to the visual and physical in his work. ...He possesses a fine strong touch, taking us into some dark dreadful places, with the ghost of laughter." —Robin Winter, AEQAI