Wild Horses of Skydog: Blue Zeus and Families (Hardcover)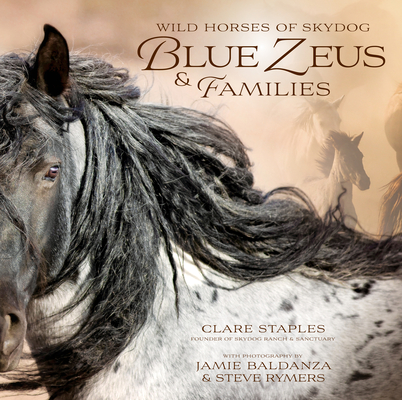 $49.95

Coming Soon - Available for Pre-Order Now
Description
---
A searingly beautiful tribute to wild Mustang family groups that
have been reunited after suffering roundup and separation in the American West.
Skydog
Ranch and Sanctuary covers over 9,000 acres in Malibu,
California, and Bend, Oregon, where wild horse advocates are working
tirelessly to save captured Mustangs and return them to freedom. To date
Skydog has rescued over 300 wild horses and 50 donkeys and mules,
with a special focus on finding and reuniting bonded families who may have
once roamed the American West together but who were separated during
the roundup process. In this striking book,
gorgeously illustrated with hundreds of dramatic photographs,
Skydog founder Clare Staples recounts heartbreaking tales of liberty
lost and the dramatic extents to which some Mustangs will go to flee
captivity or rejoin their family bands. She describes the mission that
drives her and the Skydog team to identifyand locate iconic wild
horses that have been removed from public lands, and then secure
them in order to assure them freedom at the Sanctuary for their
remaining years--whenever possible, in the company of their original wild
herdmates. Readers meet
twenty-one horse families, including that of Blue Zeus, the stunning
Wyoming stallion who Staples admired in the wild for years before, in
the fall of 2020, his herd was slated for roundup and captured, in one day
losing both their freedom and each other. The story of the
urgent search for him and his mares and foals, andtheir eventual reunion
in the hills of Oregon, encapsulates all that Skydog hopes to
accomplish for hundreds more horses in the years ahead.
Incredibly moving, inspiring, and offering the hope of wildness and
beauty preserved for future generations, this book is for every animal
lover and all those who honor the natural inhabitants of theAmerican West.
A percentage of all
sales goes toward supporting Skydog Ranch and Sanctuary.
About the Author
---
Clare Staples isthe founder and president of Skydog Ranch and Sanctuary in Malibu, California, and Bend, Oregon, which provides long-term homes for formerly free-roaming wildhorses gathered from the American West by the United States government. Staplesis a lifelong wild horse advocate, managing the Sanctuary with a passion andcommitment that has helped make her one of the world's leading voices on theplight of Mustangs and the myriad social and political issues that surroundthem.Jamie Baldanza hasbeen a horse lover since birth. After 14 years as an art and creative directorin advertising, Baldanza left New York City to follow her passion: photographing wild horses all across the Western United States. She created herown production company This Mustang Life, which concentrates on bringing animalcauses to the public through film and photography. She is the director of thedocuseries Wild Lands. Wild Horses and a short filmcalled Pass the SAFE Act Now.Steve Rymers isa photographer who followed a family of Mustangs he had beenphotographing in the wild to Skydog Ranch and Sanctuary when they were rescuedafter a Bureau of Land Management roundup. Rymers now regularly returns to theSanctuary to photograph the herds, donates all the images he takes to use in promotionalefforts that support the Sanctuary's mission.