Riverdale: The Ties That Bind (Paperback)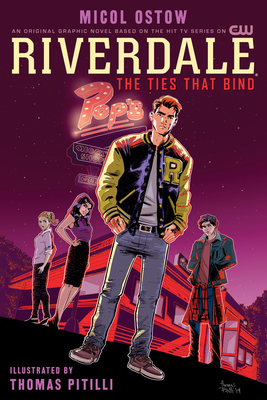 for information about purchasing this book, please contact orders@bookpassage.com
Description
---
Archie's first original graphic novel featuring the world of CW's Riverdale! Four interconnected stories trap each of our main characters in a unique high-stakes conflict over the course of a few pressure-cooker hours!

Jughead's locked in and left behind with Moose at Stonewall Prep, Veronica is trapped with Cheryl at a nearby suburban shopping mall, Betty and Polly are stalked by a possible madman when a girls' night goes horribly awry and Archie is held hostage by a 'long lost relative' of Fred's who's come to town seeking payback of any and every kind.

Will Archie and company even make it to sunrise? If they do, will they ever be the same again?
About the Author
---
Micol Ostow (born April 29, 1976) is an American author, editor and educator who has written more than 40 published works. Her first original hardcover novel, Emily Goldberg Learns to Salsa, was named a "New York Public Library Book for the Teen Age". She has also been the ghostwriter for novelizations of television series such as Buffy the Vampire Slayer, Charmed and Riverdale.