Bite Sized Archie Vol. 1 (Paperback)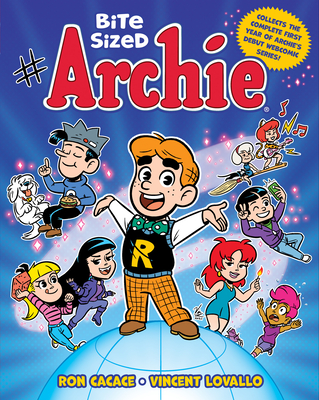 $12.99

Usually Ships in 1-5 Days
Description
---
We hope you're hungry for laughs! The collection of Archie Comics' first-ever webcomic series is here!

Bite Sized Archie features all your pals and gals from Riverdale (and beyond) while covering everything from video games to pop culture to embarrassing group chats! Complete with exclusive bonus features, character sketches and behind-the-scenes conversations from the creative team, you'll be absolutely thrilled as we take a deeper look at the comic that's been delighting Archie fans on social media every week!
About the Author
---
Ron Cacace first logged on the internet at the age of 8 years old and he has never recovered. His love for comic books started early and led him to making fan comics, working at a comic book shop, interning at Marvel Entertainment, and eventually running the social media and publicity efforts at Archie Comics. Ron is best known for shaping the online image of the Archie Comics brand and finding new ways to engage with fans and readers. He is also known for that time he made a bunch of professional newscasters say the phrase "i'm baby" on national television. Ron lives in New Jersey with his wife and cat and has a 1.55 K/D ratio in the most recent edition of Call of Duty.

Vincent Lovallo is a New York-based illustrator, editor, and art director with a passion for all-ages stories. At Archie Comic Publications, Inc., Vincent has overseen production on dozens of action-adventure titles such as Jughead's Time Police and Cosmo the Mighty Martian. He is the artist behind Bite Sized Archie, Archie Comics' very first webcomic series, Heebie Jeebies on Line Webtoon, and was responsible for updating the design of Playland's mascot, Coaster the Dragon for the Westchester-based amusement park. In his spare time, Vincent enjoys drawing, reading comics, playing video games, and watching movies, especially animated features.