Mind-Blowing Facts About the Planet's Strangest Animals (Paperback)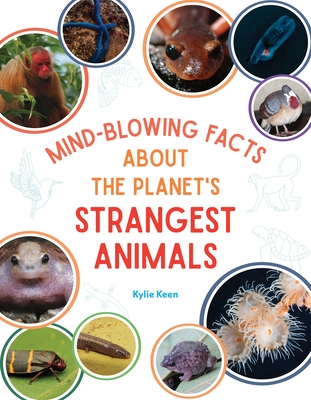 $23.99

Coming Soon - Available for Pre-Order Now
Description
---
The Animal Kingdom's Best-Kept Secrets

You've heard of the blobfish—but what about the northern glass frog, which has skin so translucent you can see its heart? Or the common egg-eater snake, which has a specialized spine to crush eggs after swallowing them? Or even the sea potato, a round brown ball of a creature that creates elaborate tunnel systems under the ocean floor?

Dive into a world of obscure, fantastic and downright- weird wildlife, with YouTuber and Animal Fact Files creator Kylie Keen as your guide. This captivating collection of unusual animal facts transports you across countries and continents to learn about the little-known creatures that call our planet home. You'll discover a plethora of animal behaviors, diets, habitats and more in this exciting collection of over 60 fuzzy, scaly and feathered friends.

From deep insights about human-animal relationships to playful fun facts about the world's most peculiar fauna, Kylie's approachable, thorough profiles are exciting for kids and adults alike. Consider this a must-have in the library of anyone who wants to be wowed by the unexpected vastness and variety of the natural world.
About the Author
---
Kylie Keen is the creator behind Animal Fact Files, a YouTube channel dedicated to educating viewers about the animal kingdom in an easy-to-understand format. Kylie currently lives in Spartanburg, South Carolina.
Praise For…
---
"Kylie goes beyond listing facts. You get to explore the wild ways these animals survive, why they're important in their ecosystems, and learn about the ways humans hurt or help them. They may be lesser-known or misunderstood animals, but Kylie's enthusiasm for a weird critter shines bright in this book!"
— Christopher Smith, science educator at the North Carolina Museum of Natural Sciences

"To read this book is to embark on a journey spanning the ocean depths and our own back gardens while investigating a curated collection of creatures that defy our wildest imaginings. On every page, Kylie captures the heart and wonder of nature's oddities through her wonderfully curious descriptions. It is a celebration of evolution and the power of adaptation."
— Leo Richards, creator of Natural World Facts