Ink and Wash Florals: Stunning Botanical Projects in Watercolor and Ink (Paperback)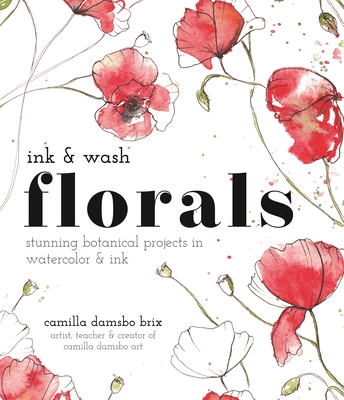 $23.99

Usually Ships in 1-5 Days
Description
---
Your Ultimate Guide to Mastering Linework and Watercolor Through Elegant Flower Compositions

Immerse yourself in the world of ink and wash with these dazzling floral projects that will have you falling in love with both mediums. With Camilla Damsbo Brix's expert guidance, you'll learn the fundamentals of each art form, from layering washes of color to capturing ideas in loose but evocative ink drawings.

Then, you'll marry both mediums in 17 radiant compositions that highlight the immense versatilities of both art forms, as well as each flower's unique beauty. Want to capture the delicate nature of the Poppy? Start with watercolor and complement it with barely-there lines of ink. Looking to bring out the lively colors of the Iris? Make bold fineliner strokes, heightened with a touch of watercolor. Switch between pen and paint as you go for an equal fusion of both in the Sunflower and Hibiscus projects. Then bring it all together by combining different flowers into one composition, like A Dancing Bouquet of Cosmos and Daisies.

These projects will expand your artistic skills, whether ink or watercolor is your medium of choice, or whether you have never picked up a pen or paintbrush before. With this gorgeous book, you'll create floral masterpieces in no time.
About the Author
---
Camilla Damsbo Brix is the artist and teacher behind Camilla Damsbo Art. She offers online and in-person courses on ink and wash for beginners and features tutorials on her website and on Skillshare. Her work has notably been profiled on Doodlewash®. Camilla lives with her family in Soroe, Denmark.
Praise For…
---
"This is more than a guide—it's permission to loosen up and play in the wild nature of earth's organic gifts. The approachable, easy-to-follow steps lead to freedom to explore and welcomed self-expression."
— Peggy Dean, artist, bestselling author of Botanical Line Drawing and founder of The Pigeon Letters

"If you've been looking to push yourself and experiment with new techniques, this is a great place to start! The instructions are super helpful and so much fun!"
— Becca Courtice, artist and founder of The Happy Ever Crafter

"This book is full of helpful techniques. It's a beautiful way to learn sketching and integrating watercolor and ink!"
— Jenna Rainey, artist, educator and author of Everyday Watercolor