The Easy Diabetes Cookbook: Simple, Delicious Recipes to Help You Balance Your Blood Sugars (Paperback)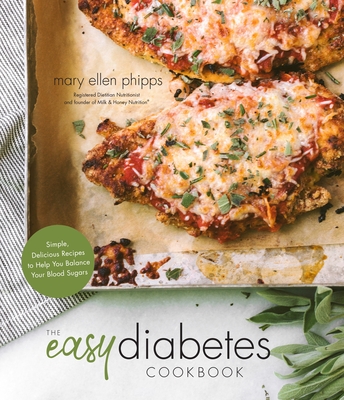 $22.99

Usually Ships in 1-5 Days
Description
---
A Type I, II, or Prediabetes Diagnosis Doesn't Mean an End to Enjoying Fun, Delicious Food

With this collection of recipes from registered dietitian nutritionist and Milk & Honey Nutrition® founder Mary Ellen Phipps, you can still make the quick, easy, and tasty foods you love while balancing your blood sugars and managing your diabetes. Diagnosed with type I diabetes when she was five, Mary Ellen uses both her professional and personal experience to create meals that will bring the joy and ease of cooking back to your kitchen, while still following a blood sugar–friendly diet.

Get a balanced start to your day with options like a Cheesy Quinoa-Crusted Spinach Frittata or Banana Protein Pancakes for breakfast. Indulge in favorites like Coconut-Crusted Chicken Tenders, Beef and Broccoli Stir-Fry, or Diabetes-Friendly Artichoke and Basil Pizza stress-free, because they're designed to be a part of a healthy diabetes diet. Dinner has never been easier (or better for your blood sugar levels) with 15-minute meals like Pesto Pasta in a Pinch or Grown-Up Lunchables.

Each recipe in the book includes nutritional information so you know you are getting the carbs, protein, and fat you need. Mary Ellen also provides a comprehensive, easy-to-understand guide to managing your diabetes through the food you eat and specialized tips to keep your blood sugar balanced throughout the day.
About the Author
---
Mary Ellen Phipps is a registered dietitian nutritionist and the founder of Milk & Honey Nutrition®. She lives in Texas with her husband and two daughters.
Praise For…
---
"A must-have for those with diabetes who want a life free of deprivation and full of flavor."
—Ellie Krieger, MS, RD, TV host of Ellie's Real Good Food and award-winning cookbook author

"Mary Ellen easily teaches readers how to create meals and even desserts that balance blood sugars. Flourless chocolate chip–pecan cookies with only 6 grams of sugar—you can't beat that!"
—Sammi Haber Brondo, MS, RD, author of The Essential Vegetable Cookbook

"A book that truly takes away the stress of managing nutrition and cooking for diabetes."
—Dr. Rachel Paul, PhD, RD, creator of College Nutritionist

"A must-read for anyone feeling overwhelmed by their diabetes diagnosis. Mary Ellen's approach will leave you feeling confident in your ability to create quick, healthy meals to keep you full, satisfied, and feeling your best."
—Lindsay Livingston, RD, founder of The Lean Green Bean

"I can't wait to try every recipe in this book!"
—Katie Rae Meyers, executive producer, KPRC 2's Houston Life

"Mary Ellen turns the difficult parts about cooking while navigating around diabetes—the timeliness, the balancing of health with deliciousness, the dietary restrictions—into simplicity. This book is good for the soul and stomach."
—Knox McCoy, author of All Things Reconsidered and co-host of The Popcast

"Diabetes is a complex disease and it can be difficult to sort out the nuts from the berries. Enter Mary Ellen Phipps, an outstanding educator with the ability to make the difficult doable. Her recipes are amazing, allowing everyday nutrition to be elegant."
—Roberta Anding, MS, RD/LD, CDE, CSSD, FAND, Rice University Sports Dietitian