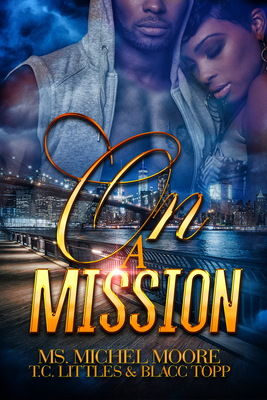 $16.95

Usually Ships in 1-5 Days
Description
---
Join Essence®-bestselling authors Ms. Michel Moore and T.C. Littles, along with Novelist Blacc Topp, as they each give you heart-racing, gritty tales of what being On a Mission on the block ultimately means.

WHEN STAYING ON TOP IS THE ONLY OPTION!

Life ain't never been fair in the treacherous street game. When you play it, you can't forget there never was and never will be any true honor amongst thieves. It's do or die. To make major moves and hustle out in the streets, you have zero choices if you want to win. The blueprint is simple: RISE, GRIND, SHINE, and, of course, stay the hell out the way! Between the struggle of avoiding the opposition, law enforcement, and sometimes your own people turning on you, life gets real, and the consequences are even realer.
About the Author
---
Ms. Michel Moore is the sole founder of Say U Promise Publications. She is dedicated to investing back into her community. A respected businesswoman and Detroit activist, she has reached goals that once looked unattainable. Follow Ms. Moore on Twitter at @DETROIT AUTHOR. Ms. Michel Moore resides in Detroit, MI.

T.C. Littles was born to teenage parents in the city of Detroit. She made a mark on the literary world as an Essence bestselling author with her first novel, Knowledge Cost. After being diagnosed with Lupus, she continues to remain upbeat and focused. As a devoted mother, she advocates for awareness, acceptance, and understanding of autism. In her spare time, she enjoys customizing clothes for young girls, social networking, and living each day to the fullest!

Blacc Topp is the author of street fiction titles like The Hustle Chronicles series, Corporate Amerikkka, GAGE, and The Devil's Hand. He is the father of four and husband to a beautiful and supportive wife. They reside in the state of Florida.