Full Figured 18 (Paperback)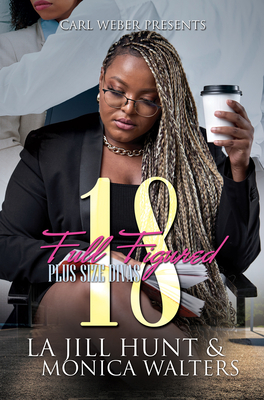 $16.95

Usually Ships in 1-5 Days
Description
---
In the latest installment of the Full Figured series, Monica Walters and Treasure Hernandez introduce readers to two full-figured beauties who are as different as night and day. One is a good girl who's swept off her feet with an unexpected romance. The other is a vivacious diva looking for a sexy adventure.

Love Won't Let Me Wait by Monica Walters: Giánni's past is riddled with failed relationships and broken hearts, so she has chosen to focus on her self-worth instead. However, when she finds herself just going through the motions in her job, she feels the need for some entertainment. A new customer's flirtatious advances might just offer her a new way to occupy her downtime.

When Ford decided to skip out on a four-year degree to become a truck driver, his parents were sorely disappointed, but Ford believes there is potential in trucking, so he isn't giving up on his dream. When he heads to a local bank for financial assistance, he isn't prepared for the curveball life throws at him. This ball of curves is professional, fiery, and gorgeous, and Ford is determined to make her his no matter the cost.

Giánni isn't prepared for what having Ford in her life can lead to, and she's taken aback by how fast it progresses. Will Ford be able to convince her that he can meet her exactly where she is, or will his aggressive attempts at loving her prove to be too much for her to handle?

Plus One by Treasure Hernandez: In Bae's world, there's only room for one voluptuous, sexy diva. Well, at least in her circle of friends, anyway. Then her friend Giselle brings a "plus one" to Bae's book release party and invites her on their all-girl getaway to Saint Martin.

Bae might think there's no room for another thick and curvy member in her clique, but does the same go for her bed? Five vivacious women go on an all-expenses-paid luxury vacation in the Caribbean. It's a trip full of sisterhood, shenanigans, and plenty of full-figured sexiness. Open your mind and throw caution to the wind as you experience one of the most memorable Full-Figured tales yet.
About the Author
---
La Jill Hunt is a native of Mobile, AL who burst onto the literary scene in 2003 with her debut novel, Drama Queen. The memorable characters she created and the entertaining stories she told quickly drew bestselling success and a following of fans, young and old. Although known for her urban chick-lit novels, she has also contributed to the street anthology series Around the Way Girls, and penned an urban romance, Another Sad Love Song. Her erotic short story, Catch 22, is currently available as a digital download. Currently residing in Virginia Beach, La Jill enjoys spending time with her daughters, family, and friends.

Monica Walters is a romance author best known as the queen of country hood love stories. An Amazon best-selling author with multiple award nominations and a 2021 winner of Literary Jewels Literary Awards for Best Romance Author, Monica has always had a passion for creating different worlds with words.

Starting with poetry, writing has always been a constant in Monica's life. The interest began in her teenage years when she fell in love for the first time. Since then, her love for writing has only progressed. Song lyrics and poetry led to short stories, then one day in her downtime, a short story became a full-length novel, which was self-published in 2014.

Monica was born and raised in Beaumont, Texas, but she now resides in Nome, Texas, where most of her country stories take place. Besides being a wife and mother, attaining a Bachelor of Science degree in sociology has only helped her become a better writer, understanding characters and their complex personalities.