Aquel día / This Day (365 DÍAS / 365 DAYS SERIES #2) (Paperback)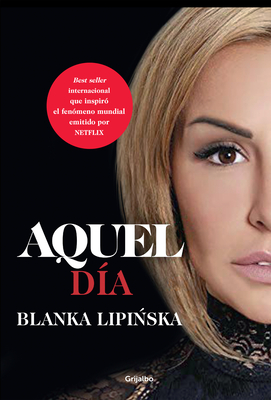 $16.95

Usually Ships in 1-5 Days
Other Books in Series
This is book number 2 in the 365 DÍAS / 365 DAYS SERIES series.
Description
---
BEST SELLER INTERNACIONAL N.º 1
 
Tras 365 días, el fenómeno mundial emitido por Netflix, llega por fin su esperadísima continuación.
 
Una excitante historia de sexo de alto voltaje, lujo y poder que no olvidarás.

Una pasión sin medida.
 
Un mundo donde no existen los límites ni la clemencia.
 
Y un solo día que podría cambiarlo todo.
 
La relación entre Massimo y Laura es cada vez más ardiente y su amor se afianza mientras ella se adentra en los códigos del sórdido  mundo de la mafia. Aunque la pasión siga más viva que nunca, ambos tendrán que seguir enfrentándose a nuevas amenazas y peligros, y Laura pronto descubrirá que enamorarse del hombre más peligroso de Sicilia tiene sus consecuencias…
 
ENGLISH DESCRIPTION

After 365 Days, the phenomenal international series by Netflix resumes with its long-awaited continuation. An exciting story with high voltage sex scenes, great luxury and extravagance, and abundant power.

A passion without restrictions.
A world where there are no limits or mercy.
And a single day that could change everything.

The relationship between Massimo and Laura becomes hotter and hotter, and their love takes hold as she delves deeper into the wretched mafia world. Although their passion is more alive than ever, both must constantly face new threats and new dangers, and Laura will soon discover that falling in love with the most dangerous man in Sicily has its consequences.
About the Author
---
Blanka Lipinska es una de las autoras más populares y una de las mujeres más influyentes de Polonia. Su obra nace más del deseo que de la necesidad, de modo que escribe por diversión y no por dinero. Le encantan los tatuajes y valora la honradez y el altruismo.

Molesta porque hablar de sexo siga siendo un tabú, decidió tomar cartas en el asunto y comenzar un debate sobre las diferentes caras del amor. Como ella suele decir: "Hablar de sexo es tan fácil como preparar la cena".

Con más de 1.500.000 ejemplares vendidos en Polonia de su trilogía, Blanka apareció en el ranking de la revista Wprost como de una de las autoras mejor pagadas de 2019. En 2020, la misma publicación la consideró una de las mujeres más influyentes de su país. Una encuesta entre los lectores de la Biblioteca Nacional de Polonia la encumbró en el top 10 de las escritoras más populares de Polonia, y la revista Forbes Woman la situó en lo más alto de las marcas femeninas.

Su novela superventas 365 días fue objeto de una de las películas emitida por Netflix más exitosas del 2020 en todo el mundo. El film se colocó en el primer lugar de las listas durante diez días y se convirtió en la segunda película más vista de la historia de la plataforma.
Praise For…
---
La prensa ha dicho:

«Coronada como la nueva "Cincuenta sombras".» -Cosmopolitan