Far-FC 2022: Federal Aviation Regulations for Flight Crew (Paperback)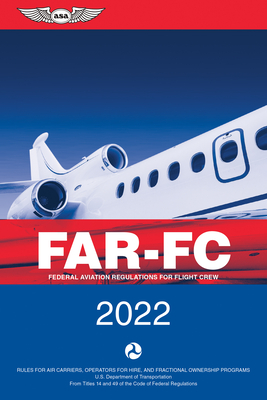 Description
---
ASA's FAR-FC is the definitive reference book for Part 121 and 135 operators. This updated 2022 edition reflects changes in aviation operations for pilots and flight crews, including flight crew member certifications, fractional ownership operations, certification for air carriers, and operating requirements for domestic operations. Includes free email subscription service for you to receive updated information as it is released by the FAA.
Convenient handbook-sized 6 x 9 format includes:
Title 14 Parts 1, 5, 63, 65, 91 Subpart K, 110, 111, 117, 119, 120, 121, 135; Title 49 Hazmat 175 and TSA 1544
The Pilot's Bill of Rights
FREE updates available online and via email subscription service service for instant access to regulation changes as they are released throughout the 1-year book lifecycle (sign up on ASA's website)
Changes and updates since last edition clearly marked
Tabs printed in margins for quick reference
Comprehensive FAR index
ASA's FAR/AIM series has been the standard regulatory reference of the industry for 75 years. ASA consolidates the FAA regulations and procedures into easy-to-use reference books full of information pertinent to pilots, flight crew, and aviation maintenance technicians.