From Genesis to Revelation God Takes a Bride: The divine marriage of which human marriage is an image (Paperback)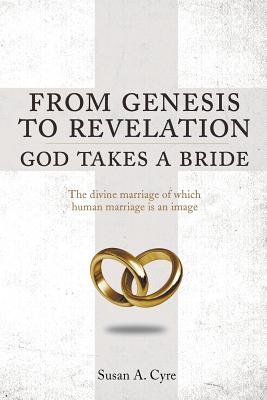 $17.95

Usually Ships in 1-5 Days
Description
---
This book examines the whole of Scripture as the unfolding marriage covenant between God and his people. The book demonstrates that God's marriage to his people is the central theme of the Bible. Eighteenth-century Reformed pastor Jonathan Edwards captured that perspective when he observed:
The creation of the world seems to have been especially for this end, that the eternal Son of God might obtain a spouse . . . to whom he might . . . pour forth all that immense fountain of . . . love and grace that was in his heart and that in this way God might be glorified.
This book traces the divine marriage from God's promises to Abraham, to the betrothal covenant that includes the Ten Commandments, to Israel's breaking of the covenant as described by the prophets, to the new covenant in Christ, and finally to the consummation of the divine marriage covenant in Revelation at the wedding of the Lamb.
God instituted the marriage of a man and a woman in Genesis 2 to be an image of God's divine marriage with his people. Therefore, it is not a coincidence that both the Gospel and marriage are under attack in our culture. Human marriage cannot be rightly understood apart from the Gospel and the Gospel cannot be fully understood apart from marriage.
This book enables Christians, whether single or married, to appreciate in a much fuller way the depth and nature of God's love for his bride. Seeing how the divine marriage defines and shapes human marriage also presents a clearer understanding of the spiritual importance of human marriage, inspiring Christians to pursue marriages that more faithfully reflect God's design.
This book proclaims Scripture's message of God's unrelenting, irrevocable love for his bride and invites the church to respond.
Susan A. Cyre, MDiv, helped found Presbyterians for Faith, Family and Ministry in 1995 and served as its executive director until 2014. She edited its bimonthly publication, Theology Matters. She has authored numerous articles dealing with biblical truth and its intersection with cultural norms. She and her husband live in Virginia.