The Digital Republic: On Freedom and Democracy in the Twenty-First Century (Hardcover)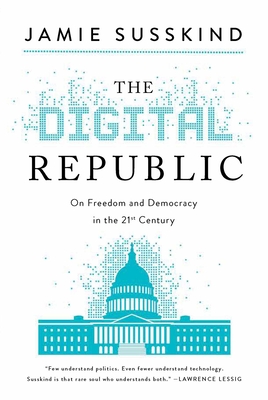 Description
---
A groundbreaking blueprint on addressing the unaccountable power of digital technology by one of the most promising and cogent voices in law and public policy.

The time has come to deal with the unaccountable power of digital technology. Early efforts at regulation have been confused, contradictory, and often counterproductive. Yet no single person or government has a plan of action.

In The Digital Republic, acclaimed author and barrister Jamie Susskind tackles one of the biggest political and social questions of our time. He explores how developments in AI, big data, social media, and other technologies are having a profound effect on politics—and what that means for our societies. The Digital Republic is a call for political change, touching on the deepest issues of who we are and what we value most. He takes readers on a journey through a new system of ideas and governance—a digital republic—offering a vision of a world that is freer and fairer than our own.

With a truly global outlook, Jamie's work is steeped in the tradition of republican thought, from ancient Greece and Rome to revolutionary France, illuminated by the most charismatic thinkers and ideas in European political history. Inspired by the great political essays of the past, from Rousseau's Social Contract, Mill's On Liberty, and Hamilton and Madison's Federalist Papers, The Digital Republic is a landmark work that will challenge us as we look toward the future.
About the Author
---
Jamie Susskind is a barrister and the author of the award-winning bestseller Future Politics: Living Together in a World Transformed by Tech (Oxford University Press, 2018), which received the Estoril Global Issues Distinguished Book Prize 2019, and was an Evening Standard and Prospect Book of the Year. He has fellowships at Harvard and Cambridge and currently lives in London.
Praise For…
---
"This is the book America needs now. Susskind thinks deeply, and writes with powerful clarity, about how technology is reshaping society and what we should do about it."
— Bruce Schneier, author of DATA & GOLIATH

"In focussing on the potential solutions available to govern and regulate the digital realm, Jamie's book makes a truly novel contribution to the existing body of literature on the now well-documented harms and pitfalls of the existing data economy. This readable primer will appeal to policymakers, law students and lawyers, and technologists alike, and act as a roadmap for anyone wondering how law and governance can reshape Big Tech, harness platform power, end extractive data practices, and ground an ecosystem of new technologies that empowers, rather than exploits, people."
— Carly Kind, Director, the Ada Lovelace Institute