Illegitimate Authority: Facing the Challenges of Our Time (Hardcover)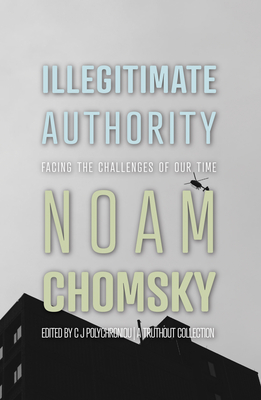 for information about purchasing this book, please contact orders@bookpassage.com
Description
---
A wide-ranging and incisive collection of interviews with Noam Chomsky, addressing the urgent questions of this tumultuous moment.

In these informative interviews, conducted for Truthout by C.J. Polychroniou, Noam Chomsky addresses the rapid deterioration of democracy in the United States and rising tensions globally. He examines the crumbling social fabric and fractures of the Biden era, including the halting steps toward a Green New Deal; the illegitimate authority of the Supreme Court, in particular its decision to overturn Roe vs. Wade; and the ongoing fallout from COVID-19. Chomsky also untangles the roots of the War in Ukraine, the diplomatic tensions among the United States, China, and Russia, and considers the need for climate action on an international scale.

Throughout, Chomsky "remains...a beacon of hope in the darkest of times" (Sarah Jaffe).
About the Author
---
Noam Chomsky is Institute Professor (emeritus) in the Department of Linguistics and Philosophy at the Massachusetts Institute of Technology and Laureate Professor of Linguistics and Agnese Nelms Haury Chair in the Program in Environment and Social Justice at the University of Arizona. His work is widely credited with having revolutionized the field of modern linguistics. Chomsky is the author of numerous bestselling political works, which have been translated into scores of languages. Recent books include What Kind of Creatures Are We?, as well as Optimism Over Despair, Notes on Resistance, and Chronicles of Dissent.C.J. Polychroniou is a political economist/political scientist who has taught and worked in universities and research centers in Europe and the United States. His main research interests are in European economic integration, globalization, the political economy of the United States and the deconstruction of neoliberalism's politico-economic project. He is a regular contributor to Truthout as well as a member of Truthout's Public Intellectual Project. He has published several books and his articles have appeared in a variety of journals, magazines, newspapers and popular news websites. Many of his publications have been translated into several foreign languages, including Croatian, French, Greek, Italian, Portuguese, Spanish and Turkish. He lives in Conshohocken, PA.