Climate Champions: 15 Women Fighting for Your Future (Women of Power) (Hardcover)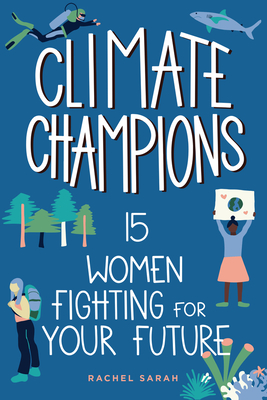 Description
---
These 15 contemporary climate champions are on the frontlines of science to create a sustainable future on Earth.
They are climate scientists, journalists, professors, academics, researchers, and policy makers from around the world who draft policies with real-world impact, run science labs to find new answers to old problems, and lead organizations at the forefront of change. These women do not shy away from showing how racial and social injustices lie at the root of so many climate-related issues.  
Their stories are accessible and energetic, with spotlights on the triumphs and struggles of women who are working to protect the planet.  
As young readers learn how these champions are rising up around the world, they will learn how to be part of the solution.
About the Author
---
Rachel Sarah is a journalist and the author of Girl Warriors. Her writing has appeared in the Washington Post, New York Times, Yahoo, POPSUGAR, and more. Rachel was a 2022 Kiplinger Fellow, one of twenty-two journalists from around the world selected for the Public Affairs Journalism's inaugural class in climate change reporting. She lives in the San Francisco Bay Area on Ohlone land. Visit her online at RachelSarah.com.
Praise For…
---
"In these pages
you are likely to find at least one new mentor who will inspire you to take action for the planet
in the way that is most true to yourself. I can't wait for my daughters to read this book!" —
Anya Kamenetz
, journalist, author, and generational justice advocate
"Sarah's
accessible, engaging storytelling suggests the infinite possible roads a person might take into climate work
, each journey unique and irreplaceable. The remarkable women featured in 
Climate Champions
 galvanize us to participate in an inclusive form of activism – one in which our individual strengths are critical to building collective power." —
Georgia Wright
, cocreator of 
Inherited
"This compact and useful resource effectively highlights critical voices. An inspiring collective biography that is also an empowering call to action." —Kirkus Reviews
"Such stories are vibrant and cognizant of the struggles that activists face along the way...Climate Champions is engaging and intersectional." —
Foreword Reviews
"This book promises an introduction to 15 women climate champions, but it delivers far more...the women's stories offer hope and inspiration." —
Booklist Starred Review