Top Eight: How Myspace Changed Music (Hardcover)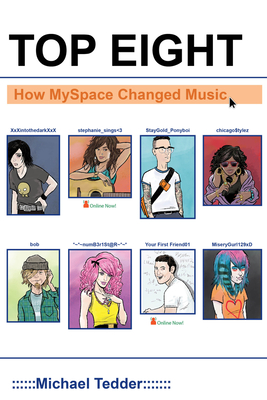 Description
---
Long before there was Twitter or Facebook, MySpace created an entirely new way to be a lonely, confused teenager—and music was the site's beating heart.

With MySpace, you could finally find your people, your scene, and your home. With new and extensive interviews with scene pioneers and mainstays like Geoff Rickly (Thursday), Gape Saporta (Midtown/Cobra Starship), Chris Carrabba (Dashboard Confessional) and Max Bemis (Say Anything), Tedder has crafted a once-in-a-generation exploration of The Scene that is as forthright as it is tenderly nostalgic.

Even beyond emo, Tedder's interviews with artists from Colbie Caillat to Lil Jon stand out in this epic journey through the 2000s and what they meant.

MySpace offered excitement and freedom, but it wasn't long before shortsighted business decisions led the site to lose the social media battle to Facebook, and Tedder talked to the executives and employees who saw it happen. 
 
About the Author
---
Michael Tedder has written about music, film, the entertainment industry, television, health, and masculinity for Esquire, Playboy, Money, The Street, the New Republic, Stereogum, Vulture, Variety, the Daily Beast, The Ringer, the Village Voice, and MEL. He is the former managing editor of the music magazine CMJ and the pop culture magazine Paper, and was a founding editor of the critical discussion website The Talkhouse. He cofounded the New York–based music critic reading series and podcast Words and Guitars.