Top Eight: How Myspace Changed Music (Paperback)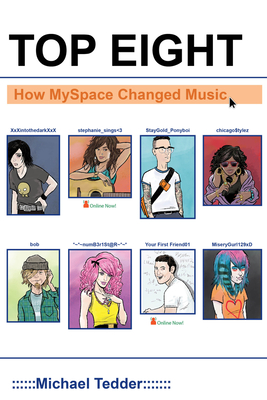 Description
---
Long before there was Twitter or Facebook, Myspace invented the world we all live in now.

Myspace created an entirely new way to be a lonely, confused teenager—and music was the site's beating heart. With Myspace, you could finally find your people, your scene, and your home. You could also find your new favorite band. And if you were lucky enough and dedicated enough, you could win a coveted spot in your new favorite band's Top Eight.

Obscure bands were stunned to find themselves with huge international followings of kids. Emo was the official sound of Myspace, but there was room for everything from hip-hop to pop.

Myspace offered excitement and freedom, but it wasn't long before shortsighted business decisions led the site to lose the social media battle to Facebook. It may be gone now, but at the time Myspace was everything, and it's hard not to long for the days when everything seemed upended, and a complete unknown could come out of nowhere to change the game overnight. 

By looking back at Myspace, and the fans and artists that made it so special, we can begin to identify what we lost, and figure out how to bring that spirit back.
 
About the Author
---
Michael Tedder has written about music, film, television, health, and masculinity for Esquire, Playboy, the New Republic, Stereogum, Vulture, Variety, the Daily Beast, The Ringer,the Village Voice, and MEL. He is the former managing editor of the music magazine CMJ and the pop culture magazine Paper, and was a founding editor of the critical discussion website The Talkhouse. He cofounded the New York–based music critic reading series and podcast Words and Guitars.