The Multiple Sclerosis Diet Plan and Cookbook: 101 Easy Anti-Inflammatory Recipes (Paperback)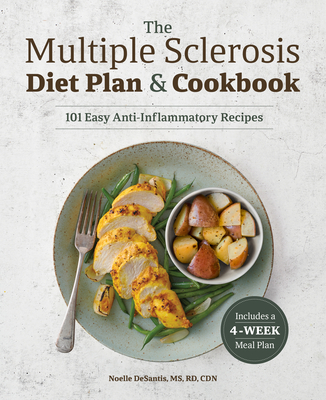 Description
---
100 anti-inflammatory recipes for taking a dietary approach to managing MS
Whether you have multiple sclerosis or care for someone who does, proper nutrition can be an effective way to defend against symptoms and raise one's quality of life. A dietary guide, cookbook, and meal plan in one,
The Multiple Sclerosis Diet Plan and Cookbook
is a simple, sustainable, holistic approach to a complex and unpredictable condition. It is an organic method of fighting an autoimmune disease at its root—suppressing inflammation.
This simple 4-week meal plan will teach you how to adjust to a new, but delightful way of eating, removing substances from your diet that can potentially exacerbate symptoms.
The Multiple Sclerosis Diet Plan and Cookbook
is a comprehensive solution filled with everything from sleep advice, to habit building, to emotional advice that seeks to improve your overall wellness.
The Multiple Sclerosis Diet Plan and Cookbook
includes:
Family inclusive—These delicious dishes, including Baked Sweet Potato Wedges and Superfood Salad are healthy for the whole family and won't require making separate meals.
Cost conscious treatment—Filled with practical, easy-to-prepare meals that are not too exotic or pricey.
Find peace—Employ lifestyle tips—including exercise, mindfulness/meditation practices, and stress reduction.
If you have been looking for a delicious dietary and life management approach to multiple sclerosis, try
The Multiple Sclerosis Diet Plan and Cookbook
.
About the Author
---
NOELLE DESANTIS received a master's degree in nutrition at the University at Buffalo, with a thesis on diet manipulation in people with multiple sclerosis. She currently serves at several neurological providers working one-on-one with patients to develop individualized nutrition therapy plans.
Praise For…
---
"More than a cookbook! Advice for managing emotional stress, physical stress, and good nutrition. Noelle has done a fabulous job illustrating a simple step-by-step meal plan with delicious recipes, allowing the reader to eliminate the burden of meal planning and manage symptoms of MS through healthy eating!"—Kara Massotti, MS, RDN, CDN

"Noelle integrates current research and best practices while offering suggestions to improve not only physical but mental health. The tips she offers along the way supports and encourages the reader to reach their optimal health and wellbeing."—Susan E. Bennett, PT, DPT, EdD, NCS, MSCS

"Noelle's research expertise certainly shines through in this cookbook! The complexity of dietary recommendations for Multiple Sclerosis is presented in a simple way that encourage lifestyle changes that are obtainable for everyone."—Lacey Bromley, PT, DPT, PhD, NCS, MSCS

"Ms. DeSantis has an exceptional academic background coupled with her strong clinical experience makes her uniquely qualified to author this important text. The book is a dietary guide, cookbook, and holistic lifestyle resource manual - all rolled into one. It presents a simple, sustainable approach to managing multiple sclerosis. It is a "must" read for all MS patients and their caregivers and support team." —Michael Buono, Ph.D.