Kombucha Crafter's Logbook: A Journal to Track and Record Your Kombucha Home Brews (Paperback)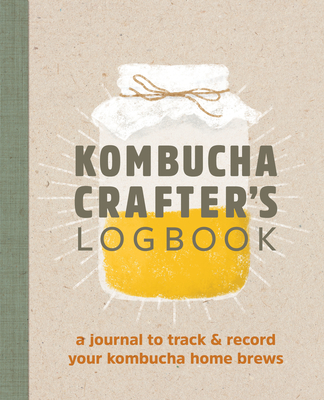 $14.99

Usually Ships in 1-5 Days
Description
---
The logbook for better (and tastier) kombucha brewing.
Brewer's Log, Day One: The journey begins! The
Kombucha Crafter's Logbook
is a custom tracker for your homebrewed kombucha adventures, so you can make each batch of "booch" your best yet. This specially designed journal has space for every detail from ingredients to tasting notes, taking each of your brews through first and second fermentation to the delicious final result.
Along with step-by-step tracking logs, you'll find master recipes for both batch and continuous brewing, as well as pages to record each SCOBY's (Symbiotic Cultures Of Bacteria and Yeast) health and growth. Reference charts for fermentation temperatures, pH levels, 7 tea types, and 20 natural flavorings—along with a thorough troubleshooting guide—make kombucha fermentation hassle-free.
The
Kombucha Crafter's Logbook
includes:
Master the basics—Easy formulas for a master batch and a master continuous brew allow you to stick to the classics—or get creative.
Troubleshooting tips—SCOBY looking lackluster? Kombucha not carbonating? Discover solutions to common issues you might encounter.
Handy charts—Quickly find the info you need with fermentation flavor charts, a pH table, a taste test flow chart, and more—all in one place.
Track your progress and brew better booch with the
Kombucha Crafter's Logbook
!
About the Author
---
ANGELICA KELLY is the founder of You Brew Kombucha, a comprehensive YouTube channel and website that teaches people how to make homemade kombucha. You'll usually find her writing, creating, or fermenting things with her husband and You Brew Kombucha co-conspirator, Ryan Kelly.
Praise For…
---
"Made my first batch of booch ever, and found/bought this to keep track of my new kombucha adventures. I already love this book! I like how detailed and sectioned it is, plus the tips and instructions in the first part of the book are super helpful. I have a feeling this is gonna be a well-worn book in my house, as much as the family cookbook. Good purchase, 100% recommend!"—Grace C.

"This is a delightful way to see on paper what makes a great batch of booch... not to mention all the time-saving tips and charts. As a reader who likes to journal their way through any challenge, I'm thrilled to add this to my library. If you want to make great-tasting kombucha, batch after batch, this logbook is for you!"—Caroline L.

"Very much needed product. I can now have a place for my temperature records, ingredients used, pH checks, dates brewed, and dates bottled. Everything you need to follow through on your batch brews!"—Cheryl S.