Puppy Training in 7 Easy Steps: Everything You Need to Know to Raise the Perfect Dog (Paperback)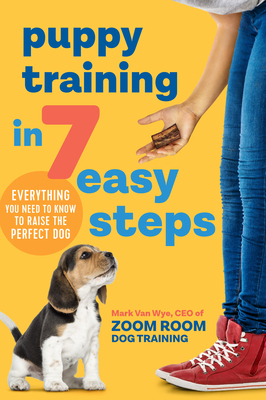 $13.99

Usually Ships in 1-5 Days
Description
---
Raise a happy, well-behaved puppy in 7 simple steps
Teach your pup the ropes with
Puppy Training in 7 Easy Steps
. This step-by-step guide shows you how to combine positive reinforcement with your dog's natural instincts during training. They'll learn essential manners and boundaries—while both of you bond and have lots of fun!
Discover dog training fundamentals, and start implementing straightforward techniques that build up your pup's skills in stages. You'll gain a solid understanding of your puppy's perspective, behavior, and body language—so you know
why
they're doing what they're doing, not just how to change their behavior or train a command.
In this beginner-friendly dog training manual, you'll find:
Complete dog training—Get guidance for bringing your puppy home, crate and potty training, preventing food aggression, socializing, learning key commands, and leash walking.
Prep and puppy-proofing—Explore the best ways to prepare for getting a puppy, from checking off an essential list of supplies to doing a safety check around your home.
Tips and troubleshooting—Learn how to see each dog training step from your puppy's viewpoint and get quick advice in case things don't go according to plan.
You and your pup will learn all the essentials with this handy guide that makes dog training easy.
About the Author
---
ZOOM ROOM is an indoor dog training gym with locations across the United States and more on the way. Founded in 2007, we've made over 100,000 tails wag. All Zoom Room trainers complete our own proprietary intensive training program, deeply rooted in the scientific literature of animal behavior and the tenets of positive reinforcement. We offer group classes, private training, playgroups, and other socialization events.

MARK VAN WYE, is a dog lover and CEO of Zoom Room Dog Training. He believes that positive reinforcement and learning new tricks should be both fun and rewarding for both people and their furry friends. Mark lives in Marina del Rey, California with his Komondor, Clyde Orange, and his son, Meyer. Both have been raised at the Zoom Room.
Praise For…
---
"Puppy Training in 7 Easy Steps gives wonderful advice for raising the perfect puppy. Whether it is your first or tenth puppy, every responsible dog owner should read this book."—Robin R. Ganzert, Ph.D., President and Chief Executive Officer, American Humane Association

"Puppy Training in 7 Easy Steps is a comprehensive, easy-to-read guide on how to set your puppy up for success in our human world while building a loving relationship. This guide covers everything from the first day you bring your puppy home to essential go-to training steps that are easy to follow. The information on understanding and communicating appropriately with your puppy will enhance your bond and help you create a trusting relationship. The emphasis on healthy mental stimulation is such an important lesson for anyone who works with or cares for puppies and dogs."—Carley Faughn, PhD, Senior Manager of Animal Care, Best Friends Animal Society

"Based on questions and input from more than 100,000 clients, Puppy Training in 7 Easy Steps cuts to the chase with everything you need to know to raise a puppy right. The information is practical, accurate, and easy-to-read. The author clearly understands and loves puppies; as soon as he asked new owners to consider if they are able to give a puppy the time and attention it deserves, this book soared to the top of my 'recommended' list."—Mary Burch, Director, Canine Good Citizen, American Kennel Club, and Ph.D., Certified Applied Animal Behaviorist

"Whether you have a puppy or an adult dog, this is the ultimate dog training bible that every pet parent should use. Mark's training is both effective and compassionate. Now having used these techniques for three of my dogs at different stages in their life, I can say that they wouldn't be the same without it. Even more important than training the dog is training the human, and the skills we've learned have had a significant impact on our lives."—Aimee Gilbreath, Executive Director, Michelson Found Animals

"Puppy Training in 7 Easy Steps is an easy read that should be a mandatory reference for all new dog owners. Plus it is a great reminder for even longtime owners."—Cheryl Shawver, President, Animal Actors of Hollywood

"Full of valuable information for the new puppy owner, Mark's enthusiasm balanced with a healthy dose of realism make this an easy read. As an ER vet who sees what goes wrong when training and management fail, this book is an important first step to ensuring a long and happy life for your new dog."—Lisa Polazzi, DVM, Veterinarian at North Central Veterinary Emergency Center

"What a wonderful resource! I wish I had had this book when I brought home my puppy. Mark is deeply engaged at both the professional and personal level with the puppy training process and that is clear with the easy to read writing style and down-to-earth approach which provides excellent practical applications covering all of the topics that any new or current pet parent should be aware of with the addition of a puppy into the family. It touches on many aspects that are usually overlooked at critical stages in your puppy's development process. This book doesn't just present information, instead, it guides you through all aspects of the puppy training process and sets you and your new puppy up for success together. I believe this will become an essential reference guide."—Justin Anderson, General Manager, Wild Meadow Farms

"Bringing home a new puppy is an exciting and often overwhelming experience. Puppy Training in 7 Easy Steps offers owners an easy-to-follow path to success using positive, proven techniques. From the fundamentals like crate training to proper socialization to training the key commands for a lifetime of joyful companionship—it's all here!"—Melanie Monteiro, pet safety consultant and author of The Safe Dog Handbook

"What an incredible resource. I wish this book had been available when my dog was a puppy. Puppy Training in 7 Easy Steps is very well written and easy to follow. I will be buying this book for friends with new puppies."—Jose Valdes-Fauli, Former Bank CEO and former Director of the Bass Museum of Art and the Frost Museum of Art