The Lupus Cookbook: 125+ Anti-Inflammatory Recipes to Live Well With Lupus (Paperback)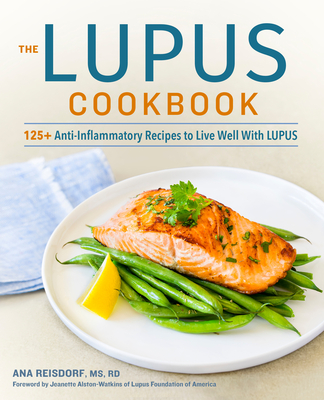 $19.99
Email or call for price
Description
---
The Lupus Cookbook is the definitive collection for anti-inflammatory recipes to take control of symptoms and send lupus into remission.
An anti-inflammatory diet is fundamental to managing lupus in your day-to-day life. Specifically written to target lupus symptoms,
The Lupus Cookbook
offers the definitive collection of anti-inflammatory recipes to get a lifetime of relief and enhance your overall well-being.
Ana Reisdorf, MS, RD, a clinical dietitian with over a decade of experience in the field, combines the most current research available on lupus, inflammation, and diet into this accessible reference. With over 125 easy and delicious recipes that target specific concerns—flare, fatigue, kidney support, cardio care, and bone health—
The Lupus Cookbook
helps you take control of one of the most important factors for your health and vitality: your diet.
The Lupus Cookbook
includes:
An introduction that offers step-by-step guidance on managing symptoms with the anti-inflammatory diet, plus in-depth explanations of foods to enjoy and avoid eating.
Over 125 recipes for smoothies and breakfasts, snacks and sides, salads and soups, plant-based meals, dish and seafood, poultry and meat, desserts, and more!
Lifestyle tips for setting up a lupus-friendly kitchen, eating out, and staying mentally healthy.
Whether you were just diagnosed with lupus or you have had it for a while, it's never too late to start thinking about what you eat and how it affects your health.
The Lupus Cookbook
is the ultimate kitchen companion to make your everyday meals count towards lifelong health.
About the Author
---
ANA REISDORF, MS, RD, is a health and nutrition writer living outside of Nashville, Tennessee, with her husband and two sons. She loves sharing her passion for nutrition through her writing.

JEANETTE ALSTON-WATKINS is the Lupus Ambassador, Facilitator, and Advocate for the Lupus Foundation of America, Florida Chapter. She was the 2018 Team Advisor for PatientsLikeMe.com. She has been a Lupus Warrior for over 10 years, is an upcoming author, and a Lupus Life Coach. She dedicates her time to helping newly diagnosed patients understand that they are not alone and guides lupus and other autoimmune patients in the right direction.
Praise For…
---
"The Lupus Cookbook makes it easy for anyone to follow the recipes and make an amazing meal even on days when you don't feel like you're capable of doing anything. I wish these recipes were around over ten years ago when I first found out I had lupus. It's never too late to start something new that can help you or a loved one live a very long, pain-free life."—From the Foreword by Jeanette Alston-Watkins of Lupus Foundation of America