Mirrors & Windows: Unlocking a New Framework to Envision Your Success (Large Print / Paperback)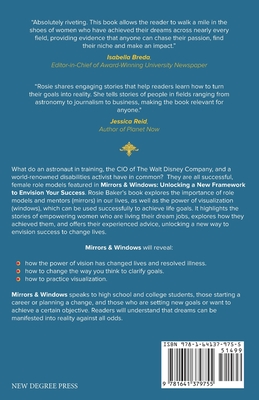 $14.99

Usually Ships in 1-5 Days
Description
---
What do an astronaut in training, the CIO of The Walt Disney Company, and a world-renowned disabilities activist have in common?
They are all successful, female role models featured in Mirrors & Windows: Unlocking a New Framework to Envision Your Success. Rosie Baker's book explores the importance of role models and mentors (mirrors) in our lives, as well as the power of visualization (windows), which can be used successfully to achieve goals in life. It highlights the stories of empowering women who are living their dream jobs, explores how they achieved them, and offers the advice they've gained from experience, unlocking a new way to envision success to change lives.
Mirrors & Windows will reveal:
how the power of vision has helped many achieve their goals and recover from illness.
how to change the way you think to clarify goals.
how to practice visualization.
Mirrors & Windows speaks to high school and college students, those starting a career or planning a change, and those who are setting new goals or want to achieve a certain objective. From it, readers will walk away understanding that dreams can be manifested into reality against all odds.
KEYWORDS:
achieving goals books
how to achieve goals in life
stories of empowering women
successful women
clarify your goals
the power of visualization
you can change your life
characteristics of role models
change the way you think to achieve goals
embrace change