Franciscan Lectio: Reading the World Through the Living Word (San Damiano Books) (Paperback)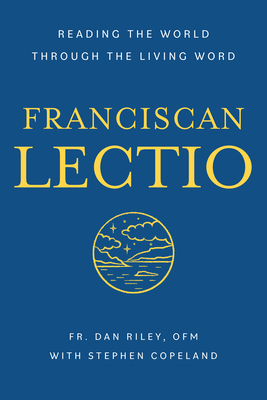 $22.00

Usually Ships in 1-5 Days
Description
---
Franciscan Lectio is for all those on a spiritual journey who long to see the world more beautifully and deeply and become more attentive and present.
An ancient tradition dating back to the third century, lectio divina has long served as an avenue of contemplative prayer, but the practice has often been systematized, intellectualized, or only practiced by monastics. Few authors have attempted to universalize lectio using contemporary language or approach it from a Franciscan perspective.
St. Paul says that the Word of God is alive and active in our hearing, and if the incarnation is true, then the Word can be experienced in all places. Lectio, therefore, is not only a spiritual practice for reading sacred texts but can be applied to any felt experience. Our experiences, too, are sacred: we need only to acknowledge their depth and beauty. In the spirit of St. Francis of Assisi, we can see the God of all creation who has always been "hidden in plain sight"—a presence that shows forth in every created thing.
In Franciscan Lectio, Fr. Dan Riley comes alongside us in our own encounters with lectio and inspires our spiritual imagination through story, art, poetry, nature, Franciscan mysticism, and Scripture — helping us to see that all of life is unitive and sacred.
About the Author
---
Father Dan Riley, OFM, is a Franciscan friar of fifty years, artist, teacher, and founder of Mt. Irenaeus, a Franciscan retreat community in West Clarksville, New York, that inspires contemplation, community, authentic spirituality, stillness, and inclusivity. He leads regular retreats and hosts the podcast "Clouds and Sun Reflections." He speaks regularly to different communities of faith around the country and loves pouring his artistic abilities into poetry, painting, and carpentry.

Stephen Copeland is a writer and storyteller who has collaborated on over a dozen books. He is a regular columnist and feature writer for the St. Anthony Messenger and recently released his first book in his own voice titled Where the Colors Blend. He obtained his bachelor's degree in journalism and Bible from Grace College in Winona Lake, Indiana, and is pursuing a Master of Theological Studies degree from the University of San Diego's Franciscan School of Theology. Stephen's work can be found at www.copelandwrites.com. 
Praise For…
---
"This unique Franciscan reader is like nothing else in its field—and so well put together! Why didn't someone think of this before? It took us a long time to sincerely honor our own inspired sources." —
Fr. Richard Rohr, O.F.M.
"By extending the meaning and practice of 'lectio divina,' Riley shows how the same practice can lead us into contemplation of the world itself. It is a practice that derives from the author's own experience and that of spiritual icons like Saints Francis and Clare of Assisi. In the words of Saint Clare, we begin to realize our own God-given union with the Divine when we learn how to see everything with eyes that prayerfully 'gaze, consider, contemplate and imitate.' A prayerful reading of this book reveals what those four words mean and how their wisdom is open to all who learn to see again by opening their eyes to what is already there in themselves and in the world: the presence of God who made and loves everything that is. To prayerfully read this book is itself a 'lectio' on how to read the world." —
Fr. Murray Bodo, OFM
, author of
Francis: The Journey and the Dream
"This book is a guide and companion for anyone searching for spiritual insight and renewed focus. Dan Riley OFM leads the reader in a wise and gentle way with this ancient practice of learning to read the world without and within. His personal stories illuminate the path." —
Marcia & Jack Kelly
, authors of
Sanctuaries: A Guide to Lodgings in Monasteries, Abbeys and Retreats
and
100 Graces: Mealtime Blessings
"
Franciscan Lectio
by Father Dan Riley takes you on a spiritual journey that leads to authentic discovery of 'what was always there, just hidden.' The calm yet captivating voice of this book allows the reader to listen, hear beyond the words and become one with the Word.
Franciscan Lectio
serves as a guide to experiencing oneness with God, each other and all of creation. It is an absolute must read for those who desire a deeper understanding and heartfelt communication with God that dwells within us and abides all around us." —
Matrecia S. L. James
, Ph.D., Dean of St. Bonaventure University School of Business and Founder of Multi-level Sustainable Leadership Consulting

"Franciscan Lectio introduces us to a spiritual practice of reading so old that it feels new. Today we live our lives constantly plugged in, bombarded by information that gives us the illusion of connectedness while often leaving us feeling empty and alone. Father Dan invites us to slow down so we can truly feel Scripture, by which he means all of Creation, with our whole being. He gives us the gift of seeing and hearing and feeling God in the world as if for the first time." —Matthew J. Cressler, author of Authentically Black and Truly Catholic: The Rise of Black Catholicism in the Great Migration
 
"Fr Dan and his co-author utilize their voices and that of others to infuse me with a heightened awareness and understanding of the four Lectio principles: Gaze, Consider, Contemplate, and Imitate. The world needs this book at this time!" —William Wynne, author of Understanding and Combating Racism: My Path from Oblivious American to Evolving Activist

"God is experience, and this book is both personal memoir and a profound sharing of Fr. Dan's mystical experiences and those possible for all of us when we engage deeply in reading all that is life. Where traditional Lectio focuses on reading scripture, Fr. Dan expands our understanding by sharing his personal experiences with art, music, nature, family and all of creation. This book is deeply Franciscan!" —Pauline J. Albert, PhD, Franciscan Scholar and Chairman of the Board, Franciscan Media
"Fr. Dan offers an introduction to a practice retrieved and re-imagined in a way that is truly Franciscan. At the heart of this practice is connection through 
conversatio
. In this book, we find an invitation to engage meaningfully and deeply." —
Timothy J. Shaffer
, PhD, Stavros Niarchos Foundation Chair of Civil Discourse, Joseph R. Biden, Jr. School of Public Policy and Administration at the University of Delaware
"A new invitation to see the world through a Franciscan lens. Fr. Dan captures the essence of being still—and knowing that God is all around us, especially in all forms of creation. May the good journey found in these pages enlighten our hearts, open our eyes and invite us to be still." —
Greg Licamele,
Mt. Irenaeus Board Member, Communications Committee Chair and "Clouds and Sun" Podcast Co-Minister
"Fr. Dan Riley has been a friend and mentor for over 40 years. Our journey started at St. Bonaventure University, as his student and friend, the Franciscan values he modeled led to a passion to use my gifts to serve others. Dan's book is an extraordinary gift for self-discovery. Come, join the journey, learn who you are, and walk with us in God's love." —Robert Cancalosi, author of Four Loop Learning

"In these most amazingly spiraling, up-and-down times, Dan Riley OFM has given us a plumbline. Franciscan Lectio provides circles of holonarchy and infinite possibilities, allowing us to forgive the unforgettable, heal abuse of power, find unity in the strength of diversity, and have hope in actions without 'razon.' In these converging cycles of great change, knowing we are beyond the twelfth hour, thanks to Dan Riley's authorship we can still live our lives in communion with the earth. We can bring ourselves to the moment-by-moment peace that passeth all understanding." —Nettie Jean Scarzafava, Retired Judge, New York State

"A beautifully instructive text. The framework is part memoir and also stretches large to embrace a sphere of love. Dan has infused every page of Lectio with his fascination for the Word in the world. He gives us examples over and over and on each page of fearless yet rewarding, prayerful encounter with 'Now Hear This!' Thus, Franciscan Lectio can't help but be a testimony to a master teacher." —Kathie Uhler, OSF