Lead Like a Monk: Benedict's Path to Cultivating Meaning, Joy, and Purpose at Work (Paperback)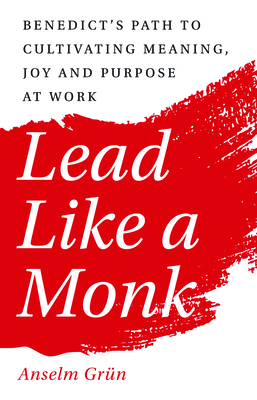 $12.00

Usually Ships in 1-5 Days
Description
---
Internationally bestselling author and German monk Anselm Grün presents ancient wisdom for leadership today.
Leadership is not about power, status, and titles. According to the Rule of St. Benedict, true leadership is about awakening creativity in others and building an environment of trust and respect. It's less about maximizing profits and more about finding meaning.
Radical in its time, this 6th century rule offers an approach to leadership that is clear and refreshing in its simplicity. Benedict is primarily concerned with the characteristics of a leader, and how such a person needs to work on himself in order to be able to lead at all. To Benedict, leading through personality is more important than any methods and strategies.
In this insightful book, Benedictine monk and internationally bestselling author Anselm Grün offers practical wisdom on all aspects of leadership, including:
· The Qualities of a Leader
· Benedict's View of Human Nature
· Leadership as Service
· Awakening Creativity
· Management of Material Possessions
· Respecting Boundaries
· Thinking from the heart
· Avoiding workaholism
Benedict's rule does not moralize or preach. It shows how economic function and economic security for a large number of people can be combined with respecting creation and the human beings around us. Leadership is an art, full of challenges but also deeply satisfying.
Whether you lead a business, a family, a non-profit, or a church group, this book will help you discover the joy of leadership and create a sanctuary where a group of people mobilize their spiritual resources, ask relevant questions, love, trust, and respect one another.
About the Author
---
Anselm Grün, OSB is a German Benedictine monk, Cellerar of Münsterschwarzach Abbey. He teaches courses and lectures, offers spiritual direction, and is author of approximately 300 books focusing on spirituality, which have sold more than 15 million copies in 30 languages.
Praise For…
---
"That millions of workers changed jobs or left the workforce all together in the wake of the global pandemic suggests something drastically wrong with the current culture of work. Too many of us experience our work as soul-less. This book shows that it doesn't have to be that way. It demonstrates not only why we are drawn to work that has meaning, but how we can make of our work a nourishment for the soul. Father Grun draws from a most unlikely source, the 6th century The Rule of St. Benedict, written as a guide for monks seeking a contemplative life. Yet, ensconced in this slender text is practical guidance and psychological wisdom that remains as relevant as ever. It is a vision of work in which the most successful leaders put people and principles first. It is a vision of success that means placing one's personal ambitions in the service of the common good. This is absolutely the right book at the right time in our history—necessary reading for all seeking to bring both mind and soul to work." —Judith Valente, author of How To Live: What The Rule of St. Benedict Teaches Us About Happiness, Meaning and Community and The Art of Pausing: Meditations for the Overworked and Overwhelmed

"For those who believe monks have nothing to teach us about life outside a cloister, this wonderful and insightful book is a gentle admonition to think again. Although they have endured for over a thousand years, monasteries do not run themselves. Like any other common human endeavor, they thrive under good shepherds and wither under bad ones. In this book, Anselm Grün harnesses the wisdom of centuries of experience, distills the essence of effective monastic leadership, and translates it into common-sense concepts and practical principles us non-monks can readily apply in our own various communities." —Michael Patrick O'Brien, author of Monastery Mornings: My Unusual Boyhood Among the Saints and Monks