52 Weekend Adventures in Northern California: My Favorite Outdoor Getaways (Travel Guide) (Paperback)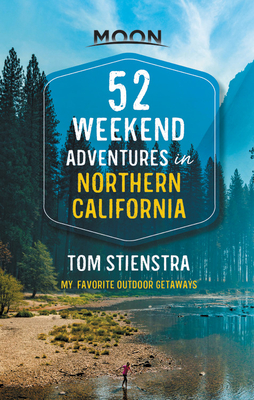 Description
---
Escape to the great outdoors with award-winning expert Tom Stienstra's 52 Weekend Adventures in Northern California. Inside you'll find:
The best weekend getaways, hand-picked by the authority on outdoor adventures: Outdoors writer Tom Stienstra reveals his favorite spots, collected over decades of hiking and camping throughout the Golden State
Recreation highlights: Immerse yourself in nature with the top options for hiking, backpacking, fishing, biking, boating, and more
Expertise and know-how: Tom shares his personal recommendations, insider tips, and memories of his adventures in the great outdoors
Planning tools for travelers and locals alike: Make it an easy getaway with detailed driving directions, maps for each adventure, and full-color photos throughout
Where to eat and sleep: Discover Tom's favorite spots to grab a bite and find out where to stay on an overnight trip, from campsites to hotels
Coverage of the Redwoods, Yosemite, Shasta, Tahoe, Lassen, Sacramento, the Wine Country, the Bay Area, and Monterey and Big Sur

Pick a weekend, pack the car, and get outside: Experience the best of NorCal's wilderness with 52 Weekend Adventures in Northern California.
About the Author
---
For over 30 years, Tom Stienstra's full-time job has been to capture and communicate the outdoor experience. This has led him across California - fishing, hiking, camping, boating, biking, and flying - searching for the best of the outdoors and then writing about it.

Tom is the nation's top-selling author of outdoors guidebooks. His documentary on the Tuolumne River received an Emmy in 2017. He has been inducted into the California Outdoor Hall of Fame and has twice been awarded National Outdoor Writer of the Year, newspaper division, by the Outdoor Writers Association of America. He has also been named California Outdoor Writer of the Year five times. Tom is the outdoors columnist for the San Francisco Chronicle; his articles appear on sfgate.com and in newspapers around the country. He also broadcasts a weekly radio show on KCBS-San Francisco.

Tom lives in Northern California. You can contact him directly via the website tomstienstra.com.

Praise For…
---
"If you've ever hiked, camped, backpacked, fished or in any way outdoor-recreated in Northern California, it's almost guaranteed you've garnered guidance from Tom Stienstra. In his four decades as The San Francisco Chronicle's outdoors writer, Steinstra's newspaper columns, guidebooks and appearances on television and radio have made him the Yoda of the California outdoors. He's been everywhere and he knows everything."
—
Datebook, San Francisco Chronicle