Anti-Aging: Anti-Aging Secrets Anti-Aging Medical Breakthroughs The Best All Natural Methods And Foods To Look Younger And Live Lo (Hardcover)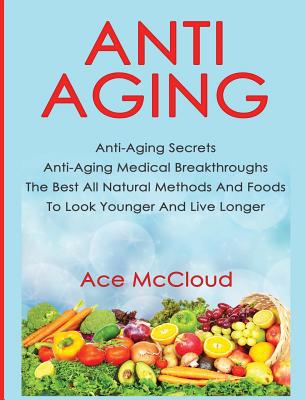 $22.99

Usually Ships in 1-5 Days
Description
---
Are you ready to slow down the aging process? Would you love to know the best all natural and medical strategies for anti-aging?
Whether you want to (1) feel stronger and healthier, (2) live longer with more energy, or (3) know how to keep your body and mind in top condition, this book will give you everything you need to know.
Naturally and simply combat premature aging.
Everyone knows aging is no fun, but it really gets bad when you don't put up a good fight against it While you can't turn back the clock, you can slow its progress. In this book you will find some of the best all-natural, modern medical, and alternative methods available to make your fight against aging much more successful.
Discover the best ways to take care of your body.
Learn how to keep your levels of activity up the right way as you age. Discover the best exercises that will keep your heart pumping strong and your body flushing out toxins that would make you old before your time. I have also included key tactics for minimizing stress and negative emotions, all of which have negative effects on our bodies' ability to fend off aging, disease and wrinkles.
Enjoy life.
I don't know anybody who is looking forward to years of clocking out from life and just vegetating in a rocking chair while watching reruns We instinctively know there is much more living to be done So, how do we get the most out of our aging years? This question has moved me to dig for answers; I've researched the latest in medical revelations on aging as well as how many people are aging with grace, strength, energy and style. This book is the result of that research and combines the best of both modern scientific revelations with proven natural strategies to help you fight back against the aging process.
Learn the best strategies for anti-aging that won't break the bank.
It can be done; Hollywood stars, athletes, and regular people have managed to keep their faces young and their bodies in great shape for many years after there prime. What if I were to tell you that you to can get these benefits without have to spend lots of money? It's true; you can use inexpensive natural solutions to keep yourself looking and feeling younger than your peers. In this book you'll discover simple but effective strategies that can keep you active and looking good for much longer than you may of ever dreamed possible.
What Will You Discover About Anti-Aging?
The causes of aging and what things to avoid.
Inexpensive secrets to anti-aging that the cosmetic industry does not want you to know about.
How to slow down the aging process.
Modern medical breakthroughs for anti-aging.
All-natural ways to slow the aging process.
You Will Also Learn:
Healthy lifestyle choices to help you be stronger and live longer.
Some of the best foods that promote anti-aging.
The best vitamins and nutritional supplements to take.
What you can do now to ensure that you get the most out of your time on this planet.
Yes, you can slow the clock.
Start today: Buy It Now