Cheated: The UNC Scandal, the Education of Athletes, and the Future of Big-Time College Sports (Paperback)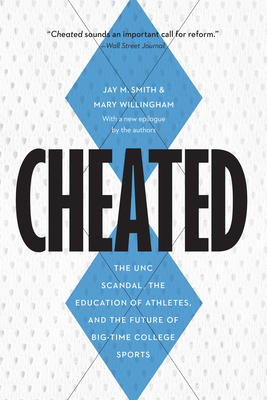 $21.95

Usually Ships in 1-5 Days
Description
---
In 2010 allegations of an utterly corrupt academic system for student-athletes emerged at the University of North Carolina at Chapel Hill, home of the legendary Tar Heels. Written by UNC professor of history Jay Smith and UNC athletics department whistleblower Mary Willingham, Cheated recounts the story of academic fraud in UNC's athletics department, even as university leaders focused on minimizing the damage in order to keep the billion-dollar college sports revenue machine functioning. Smith and Willingham make an impassioned argument that the "student-athletes" in these programs are being cheated out of what, after all, they are promised in the first place: a college education. 

Updated with a new epilogue, the paperback edition of Cheated carries the narrative through the defining events of 2017, including the landmark Wainstein report, the findings of which UNC leaders initially embraced only to push aside in an audacious strategy of denial with the NCAA, ultimately even escaping punishment for offering sham coursework. The ongoing fallout from this scandal—and the continuing spotlight on the failings of college athletics, which are hardly unique to UNC—has continued to inform the debate about how the $16 billion college sports industry operates and influences colleges and universities nationwide.    
 
About the Author
---
Jay M. Smith is a professor of history at the University of North Carolina at Chapel Hill and has served in a variety of administrative capacities involving the management of undergraduate education.
Mary Willingham worked in the Center for Student Success and Academic Counseling at UNC–Chapel Hill until 2014. Both she (in 2013) and Smith (in 2014) received the Robert Maynard Hutchins Award from the Drake Group for integrity in the face of college sports corruption. Willingham now works as a middle school reading teacher for Kipp Public Charter Schools in Chicago.
Praise For…
---
"Cheated sounds an important call for reform."—Gregg Easterbrook, Wall Street Journal

"Those who care about the soul—and economics—of the $16 billion-a-year college sports industry should clear their reading calendar for Cheated."—Paul Barrett, Bloomberg Business

"[Cheated] offers a stinging critique of UNC-Chapel Hill's handling of the academic and athletic wrongdoing that kept student athletes eligible to compete and persisted for nearly two decades."—Jane Stancill, News & Observer

"All readers interested in education, public affairs, and college athletics will find this book essential."—John Maxymuk, Library Journal

"This excellent book is a canary in the coalmine for those who love athletics at the collegiate level."—Jorge Iber, Sport in American History

"The underlying fraud in big-time college athletics is academics. With the most comprehensive accounting, Smith and Willlingham paint an absolutely devastating picture of how so-called student-athletes are shamelessly exploited. . . . Cheated is nothing less than an American tragedy."—Frank Deford, author of The Entitled and senior contributing writer for Sports Illustrated

"This book informed me that, as a black athlete and a student, more awareness and information about the universities you attend must be thoroughly analyzed before making a decision about your future. The details of fraudulent education and unprepared black athletes in this book should shame our society. I am a living testimony that this book is the Pandora's box of university secrets and black athlete exploitation. It is a must-read."—Rashad McCants, former NBA player and UNC NCAA Champion

"Smith and Willingham's exposé of the corruption at the University of North Carolina reads like a suspense thriller but unfortunately is nonfiction. The authors offer concrete recommendations for college sports reform that should serve as a blueprint for all American universities."—Gerald Gurney, president of the Drake Group and assistant professor of adult and higher education at the University of Oklahoma