Secrets of Happiness (Hardcover)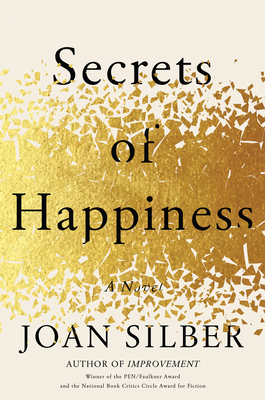 Staff Reviews
---
There is an unmistakable richness to Joan Silber's writing, rich in character, rich in emotion, and rich in insight. The stories told in her latest novel, Secrets of Happiness, are primes examples of Silber's deft hand at seamlessly connecting characters, stories, and emotional through-lines. We meet Ethan, who thinks he knows his father until a letter shatters that illusion, revealing infidelities and an alternate version of his family living in another New York borough. From there, the web of characters continues outward, across time and continents, before pulling back to the center. Each story is a beautifully intimate character study, yet they all open our eyes to the universal truths that connect us on our search to make sense of our lives, and possibly to discover happiness on the journey we share.
— From
Elaine & Luisa's Picks: Spring 2021
May 2021 Indie Next List
---
"No one is better than Joan Silber at revealing the hidden links that connect people. The small, human details in Secrets of Happiness feel at first like ripples in a pond, but they prove in the end to be mighty waves in an ocean the size of the world."
— James Crossley, Madison Books, Seattle, WA
Description
---
A WASHINGTON POST BEST BOOK OF THE YEAR

When a man discovers his father in New York has long had another, secret, family—a wife and two kids—the interlocking fates of both families lead to surprise loyalties, love triangles, and a reservoir of inner strength in this "expansive and elegantly crafted novel" (Fresh Air, NPR).

"Rich with the complexities of life . . . the stories create a world made fully dimensional through changes of perspective—major characters appear and reappear as part of one or another's experience and testimony . . . Pull any life's thread and you discover a mesh of involvement that soon takes in all the others. It is a fine thing, subtly done, and truly exhilarating." —The Wall Street Journal


Ethan, a young lawyer in New York, learns that his father has long kept a second family—a Thai wife and two kids living in Queens. In the aftermath of this revelation, Ethan's mother spends a year working abroad, returning much changed, as events introduce her to the other wife. Across town, Ethan's half brothers are caught in their own complicated journeys: one brother's penchant for minor delinquency has escalated, and the other must travel to Bangkok to bail him out, while the bargains their mother has struck about love and money continue to shape their lives.

As Ethan finds himself caught in a love triangle of his own, the interwoven fates of these two households elegantly unfurl to encompass a woman rallying to help an ill brother with an unreliable lover and a filmmaker with a girlhood spent in Nepal. Evoking a generous and humane spirit, and a story that ranges over three continents, Secrets of Happiness elucidates the ways people marshal the resources at hand to forge their own forms of joy.
About the Author
---
JOAN SILBER is the author of nine books of fiction. Her last book, Improvement, was the winner of the National Book Critics Circle Award and the PEN/Faulkner Award and was listed as one of the year's best books by The Washington Post, The Wall Street Journal, Newsday, The Seattle Times, and Kirkus Reviews. Her previous book, Fools, was long-listed for the National Book Award and was a finalist for the PEN/Faulkner Award. Other works include The Size of the World, finalist for the Los Angeles Times Book Prize for Fiction, and Ideas of Heaven, finalist for the National Book Award and The Story Prize. She lives in New York, has taught at Sarah Lawrence College, and teaches in the Warren Wilson MFA program.
Praise For…
---
A Washington Post Best Book of the Year
A Kirkus Reviews Best Book of the Year
An O, The Oprah Magazine Most Anticipated Book of Next Year
A Library Journal Title to Watch
AARP, a Top Pick for Spring

"Secrets of Happiness unfolds across families and lovers, across time and expectations, across the country and across the world, and the bigger it gets, the more it shows how deeply connected we are. Joan Silber writes with a frankness and freshness that draws the reader closer with every page. It would be impossible to overstate just how good this book is."   —Ann Patchett

"Silber's ninth novel tackles this intriguing question from the perspectives of multiple narrators, with her characteristic expansive and thoughtful flair." —New York Times Book Review, Editors' Choice

"Secrets of Happiness is classic Joan Silber . . . Silber's effortless dissemination of facts in narrative is always impressive because her characters are so engaging and believable." —Susan Straight, Los Angeles Times

"Secrets of Happiness looks like a series of linked stories, but it's more like a roulette wheel in print: Each chapter spins to some other character in a large circle of possibilities. It takes only a moment to get your bearings, and the disappointment of leaving one narrator behind is instantly replaced by the delight of meeting a new one . . .  These stories unfurl with such verbal verisimilitude that they're like late-night phone calls from old friends. Every imperative page trips along with the wry wisdom of ordinary speech—the illusion of artlessness that only the most artful writers can create . . . Their stories—like ours—all revolve around money and love. Can a check ever come with no strings attached? Who cares enough to nurse the dying? Who deserves the inheritance? These tales turn on such questions, as though Silber were holding a coin in the light, testing the mettle of each grasping, grateful, generous soul . . . In quiet, surprising moments, Secrets of Happiness suggests something lies beyond the columns of loss and gain, something one character calls 'the sunny opacity that love can induce.'" —Ron Charles, The Washington Post

"In the seven artfully linked stories of Ms. Silber's new novel, Secrets of Happiness, we find both types, but once again those who display the will to be canny, which money in the offing or in the pocket seems to confer, are the most deeply penetrated and superbly conjured . . . Each of the seven sections engages our interest right off the bat; each has a first sentence pregnant with promise . . . Having seized our attention, Ms. Silber pushes forward into her characters' stories, summing up in fleet, fluid prose the circumstances and acts that have shaped their lives to this point, then slipping deftly into further events where, for better or worse, the gravitational force of money can be felt . . . [It is] rich with the complexities of life; the characters' motives and their decisions arise out of personalities meeting circumstance. Further, the stories create a world made fully dimensional through changes of perspective—major characters appear and reappear as part of one or another's experience and testimony . . . Pull any life's thread and you discover a mesh of involvement that soon takes in all the others. It is a fine thing, subtly done, and truly exhilarating." —Katherine A. Powers, The Wall Street Journal

"Silber weaves together an intricate story about love, loyalty and betrayal." —Annabel Gutterman, Time

"Silber leaps across continents and decades, characters age and screw up and die, but the astonishing detail of her imagination keeps any of it from seeming glib . . . Sometimes the dexterity and plentitude of Silber's plotting take your breath away, or make you want to laugh. Why isn't there more fiction like this? . . . Why isn't there more fiction that's such a pleasure to read, simply because of its clarity, wisdom, heart, and elegance? Secrets of Happiness feels like a benchmark, a guiding star, a minimum height requirement; I'd like to say I will never again settle for fiction that's not as good as this, but I know I will have to." —Nick Hornby, The Believer

"Critic Charles Finch called Silber America's Alice Munro. Her new novel-in-stories, Secrets of Happiness, confirms Finch's assessment . . . Silber explores the difficult act of self-fashioning in the face of financial obstacles, racism, illness, mortality, familial pressures, and obligations. Her characters steal, cheat, and lie, they fall into addiction and give in to destructive anger, but they are never reduced to cartoons or stereotypes . . . All of Silber's narrators grapple with similar tensions between their yearning for autonomy and the constraints imposed on them by their families, their societies, their own natures. At the same time, they come to understand and forgive those who have harmed or wronged them, and such capacious empathy is what frees them to experience happiness in all its elusive richness . . . Charles Dickens, whose novels are mentioned several times by narrators, hovers as a kind of tutelary spirit over the book. Wealth, class, inheritance—the main Dickensian themes are Silber's too. In the emphasis on wills, legacies, and inter-familial feuds, Bleak House looms large. But in its depiction of vulnerable humans making their way in a difficult world, watching their hopes, expectations, and ambitions come to nothing and revaluing what is most important, and in its use of first-person narrators, Secrets of Happiness seems most indebted to Great Expectations. Here we have six Pips, bound together by strange coincidences and chains of connection, ruminating on innocence and experience, disappointed, disillusioned, yet still longing for true happiness. These are recognizable people, stepping out from the ruins of their lives, who have been bent and broken, but perhaps into a better shape." —Priscilla Gilman, The Boston Globe

[An] expansive and elegantly crafted novel . . . Silber begins handing off the story, chapter by chapter, to other narrators, among them Ethan's newly-discovered half-brothers, the ex-girlfriend of one of those half-brothers, and Ethan's fickle present lover's former lover. It's not like everyone knows each other, but they're connected in some cosmic way, almost like a horizontal extended family tree that can only be observed from space. And they all have such smart things to say about love." —Maureen Corrigan, Fresh Air

"There is no one else like her—she invents a new improvised form for her fiction." —Michael Silverblatt, KCRW's Bookworm

"Few make fiction feel as exciting as Silber—and not in plot, but mere structure. Characters impact one another. Tones shift with perspective. Scenes build with profound scope . . . This latest novel feels like vintage Silber: stories interlinked with the confidence of Elizabeth Strout, but all their own mood and power." —David Canfield, Entertainment Weekly

"Exceptional . . . The push and pull of commerce and love plays out in other family disasters throughout Secrets of Happiness, each chapter so well constructed and compelling it could stand as a separate story. Every character knows someone else in the book, and as lives bump against each other, bruises result . . . The easy, uncluttered prose reveals the connections between characters without artifice, and Silber can't resist highlighting life's paradoxes." —Connie Ogle, Minneapolis Star Tribune

"The worlds she twines together in her new book of linked short stories, Secrets of Happiness, span oceans and continents, along with the social divides that were E.M. Forster's focus . . . Silber's knack for inhabiting far-flung realities is remarkable . . . The book's narrative suspense increases with the arrival of each new narrator (there are six altogether). Perplexing plot points in one episode—a seemingly pointless lawsuit, for instance—find explanation, if not justification, in the next. Along with the pleasure of figuring out the connections between these characters, there's a thematic suspense to the book too, implicit in its title. All Silber's narrators voice variations on the questions: What brings happiness in life? Where do greed, desire and bargaining ability fit into the picture? Where does contentment with having less? . . . Secrets of Happiness pays the best kind of attention to its characters' desires, dilemmas and, of course, connections." —Michael Upchurch, The Seattle Times

"Her latest novel—cerebral yet intimate and tender—again dissects, with stunning precision, a family's physiognomy as revelations of a father's secret life force the survivors to revisit their own beliefs about themselves, and each other." —Oprah Daily

"Joan Silber is a masterful writer of multifaceted characters in complex relationship dynamics . . . Her new novel follows a man harboring a secret—he's leading two lives, part of two families—and the impact of his deception radiates far beyond him." —Arianna Rebolini, Buzzfeed, One of the Most Anticipated Books of the Year

Praise for Improvement:

"This is a novel of richness and wisdom and huge pleasure. Silber knows, and reveals, how close we live to the abyss, but she also revels in joy, particularly the joy that comes from intimate relationships . . . [A] perfectly balanced mix of celebration and wryness." —The New York Times Book Review
 
"Joan Silber's quietly brilliant novel Improvement weaves an intricate, zigzagging pattern out of the lives of a dozen people, and six well-chosen narrators provide the voices . . . The multiplicity of voices in this production gives a wonderful aural dimension to the weave of inadvertently interlocked lives." —The Washington Post