Evening: A Novel (Hardcover)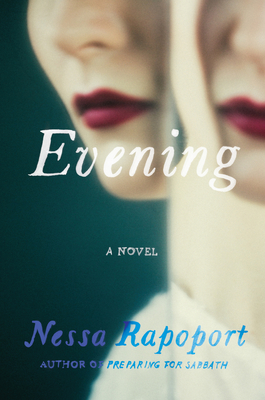 for information about purchasing this book, please contact orders@bookpassage.com
Staff Reviews
---
Evening is the story of compassion for our own failings and those we love. Eve returns to sit shiva for her sister, Tam, in their childhood home of Toronto—a place that Eve escaped from as soon as she was able, in contrast to Tam, who seemed to flourish as a hometown celebrity. While Eve loved her sister deeply, she was conflicted about Tam's choices and how her own life stood in contrast. Now with her foil gone, Eve is struggling and must find acceptance for the adults she and her sister grew to be. Rapoport's deft hand and lyrical prose bring to life this beautiful examination of grief and love.
— From
Elaine and Luisa's Picks: Fall 2020
Description
---
Two sisters, lost youth, and youthful obsessions; organized by day as the family sits shiva, Evening unfolds the paradoxes of love, ambition, siblings, and the way the past continues to inflect the present, sometimes against our will.

In her thirties, Eve is summoned home by her distraught family to mourn the premature death of her sister, Tam, a return that becomes an unexpected encounter with the past. Eve bears the burden of a secret: Two weeks before Tam died, Eve and Tam argued so vehemently that they did not speak again. Her sister was famous, acclaimed for her career as a TV journalist and her devoted marriage. But Tam, too, had a secret, revealed the day after the funeral, one that inverts the story Eve has told herself since their childhood. In the aftermath, Eve is forced to revise her version of her fractured family, her sister's accomplishments and vaunted marriage, and her own impeded ambition in work and love.

Day by day as the family sits shiva, the stories unfold, illuminating the past to shape the present. Evening explores the dissonant love between sisters, the body in longing, the pride we take in sustaining our illusions, and the redemption that is possible only when they are dispelled.

The paperback edition features a reading group guide for book clubs.
About the Author
---
Nessa Rapoport was born in Toronto, Canada. She is the author of a novel, Preparing for Sabbath, and a collection of prose poems, A Woman's Book of Grieving. Her memoir, House on the River, was awarded a grant by the Canada Council for the Arts. Her essays and reviews have appeared in The New York Times and the Los Angeles Times, among others. She lives in New York with her husband, artist Tobi Kahn.
Praise For…
---
An Entertainment Weekly, 1 of 6 Twisty Female–Led Books to Read This Fall
A Literary Hub Most Anticipated Book of Fall

"Unfolding over the course of a shiva, with digressions into past affairs, Evening is a mourning novel and a ghost story, the novel's rooms crowded with opinionated family and friends and all the history and complicated relationships they carry. Each family grieves in its own way." —Chloe Schama, Vogue

"Tight, clever and poignant, with crackling dialogue that could be transposed almost directly to stage or screen." —David B. Green, Haaretz

"[A] mournful, poignant novel." —Sarah Neilson, Shondaland

"Tender and mournful, yet sparked with moments of joy and heat, Evening is a compassionate, lyrical portrait of grief, longing, and love." —Kristin Iversen, Refinery29

"Rapoport draws us into the pleasures of her splendid new novel, Evening, full of lush language used to describe women's sexuality, lost loves and family secrets." —Elizabeth Edelglass, Hadassah

"Like a darker, sexier Little Women, it excavates a seemingly saccharine family dynamic to reveal the tangled knot of obligations and entitlements, admirations and resentments, that underpin the closest of sibling bonds." —Irene Connelly, Forward

"[A] page–turner that instills a hope amid even the most dire and final of circumstances . . . The story of a delicate, enduring sisterhood." —Kathryn Kemp,The Daily Californian

"[Rapoport] limns the emotion of every action, cutting straight to the heart. Eve's inner life is on full display, but the novel's real drama and magic comes from Eve's relationships with others. How can we truly understand and love someone when we are so stuck in our own lives? Though Rapoport does not get quite so philosophical, the power of Evening is that she forces you to do that thinking yourself." —Eric Ponce, BookPage

"Smart, darkly funny . . . Rapoport's prose crackles with wit . . . and erotic heat, as Eve remembers her first sexual experiences with Laurie. Suffused with deep feeling, Rapoport's narrative boldly faces the darkness that can fuel sisterly rivalry." —Publishers Weekly (starred review)

"An introspective drama about a woman reconsidering her family mythology . . . Written in clear and thoughtful prose, Evening will keep readers entranced with the bonds and the competitions between sisters and the questions of what remains when loved ones are gone." —Shelf Awareness

"Somber but hopeful, this work reveals truths about family dynamics, which are always messier and more complicated than unquestioned family lore." —Library Journal

"Written in sensuous yet clear–eyed prose, Evening is a novel that adroitly touches on everything we've ever wanted to know about the inner lives of women, from how they love to how they pitch their tents in the professional world. In her portrait of three generations of a family, as seen through the eyes of Eve, her endearingly conflicted yet wise narrator, Nessa Rapoport has given us a story rich in unexpected disclosures and impenetrable mysteries. Intimate, funny, and thoughtful, Evening is a novel that draws the reader in bit by bit until you are totally under its spell." —Daphne Merkin, author of 22 Minutes of Unconditional Love

"A masterpiece . . . Lusty, funny, grand. My shabby words do not even begin to convey how brilliant this book is." —E. Jean Carroll, author of What Do We Need Men For?

"Evening is a book to read many times: First for the gripping story of two sisters forever entwined by love and competition, then for the lyrical images and lush scenes that shape the narrative, and above all for the sheer joy of reading a beautiful work."—Francine Klagsbrun, author of Lioness: Golda Meir and the Nation of Israel