The Center of Everything: A Novel (Hardcover)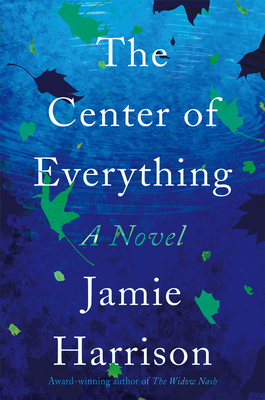 Staff Reviews
---
Polly is slipping. Between the past and the present, action and inaction, truth and fiction. An unfortunate bike accident left Polly's brain worse for wear but life marches on, traumatic brain injury or not. Now the convergence of a family gathering, and the suspicious disappearance of a dear friend threatens to undo her tenuous hold on the present as she struggles with memories of disturbing events from her past. In this moving family saga, Jamie Harrison shows us the vast expanse of Montana, the tangled paths inside a fragmented mind, and the secrets that help families endure.
— From
Elaine & Luisa's Picks: Winter 2021
January 2021 Indie Next List
---
"This is a story about family, about history, and about love. The characters are like you and me; their stories are intertwined just as ours are, with a past and a hoped-for future. Author Jamie Harrison wields a mighty pen with precision and care, peopling her book with a myriad of interesting characters living believable lives. Her narrative is insightful and moving, and she has that rare gift of making a fictional story sound like the real thing."
— Linda Bond, Auntie's Bookstore, Spokane, WA
Description
---
Set against the wild beauty of Montana as a woman attempts to heal from a devastating accident, this generational saga from the award-winning author of The Widow Nash is a heartfelt examination of how the deep bonds of family echo throughout our lives.

For Polly, the small town of Livingston, Montana, is a land charmed by raw, natural beauty and a close network of family that extends back generations. But the summer of 2002 finds Polly at a crossroads: a recent head injury has scattered her perception of the present, bringing to the surface long-forgotten events. As Polly's many relatives arrive for a family reunion during the Fourth of July holiday, a beloved friend goes missing on the Yellowstone River. Search parties comb the river as carefully as Polly combs her mind, and over the course of one fateful week, Polly arrives at a deeper understanding of herself and her larger-than-life relatives. Weaving together the past and the present, from the shores of Long Island Sound to the landscape of Montana, The Center of Everything examines with profound insight the memories and touchstones that make up a life and what we must endure along the way.
About the Author
---
Jamie Harrison, who has lived in Montana with her family for more than thirty years, has worked as a caterer, a gardener, and an editor, and is the author of The Center of Everything, The Widow Nash, and the four Jules Clement/Blue Deer mysteries: The Edge of the Crazies, Going Local, An Unfortunate Prairie Occurrence, and Blue Deer Thaw. She was awarded the Mountains & Plains Independent Booksellers Association Reading the West Book Award for The Widow Nash, and was a finalist for the High Plains Book Award.
Praise For…
---
A Bibliolifestyle Most Anticipated Read of the Year

"It's so character driven and you really feel as though it's not a made up story, that these are real people, and that you are getting a glimpse into their lives." —Nancy Pearl

"This gorgeous novel is well worth your time." —People

"A meticulously crafted, graceful novel." —O, the Oprah Magazine 

"[A] wonderful cast of interesting characters . . . And it is really the way Polly thinks—about her children and her childhood, her memories and imaginings, her immediate circumstances and her place in the world, even the toothsome dishes she prepares (with occasional lapses lately)—that makes this book so engaging . . . Carrying us along, Polly conjures a richly textured, often lovely life of everyday loss and longing and endless speculation, where 'everything goes missing but everything lives on, at least for a while, in the small kingdom of your head.' Indeed, Harrison's novel takes the unreliable narrator to a whole new place: in short, to the center of everything." —Ellen Akins, The Washington Post

"Searching for a first book club book of 2021? Look no further . . . Weaving together the past and the present, The Center of Everything examines the memories and touchstones that make up a life, and what we we all endure along the way." —Sarah Stiefvater, PureWow

"Gorgeous . . . Harrison's writing is as lush as the landscapes themselves . . . Harrison's writing shimmers like light-sparkled water, and it's full of lush sensory details." —Caroline Leavitt, San Francisco Chronicle

"One of those works that ages well, that offers up new surprises with each subsequent reading. There's an almost unimaginable sweetness as well as a sense of longing suffusing this new novel . . . A rarity." —Steve Whitton, The Anniston Star

"Wise and warmhearted . . . In The Center of Everything, Jamie Harrison has created a world so total, so real, so personal, that the reader, on finishing it, is missing it already." —Sarah Shoemaker, Washington Independent Review of Books

"Despite various mysteries and suspicious deaths in this story about a Montana woman uncovering secrets past and present, Harrison wisely concentrates less on plot twists than on exploring the trickiness of memory where love and family are concerned . . . Through small moments, particularly shared meals and drinks, the reader becomes intimately involved in Polly's inner life and falls in love with a vividly portrayed Montana devoid of Western clichés. A sharply intelligent, warmhearted embrace of human imperfection--the kind of book that invites a second reading." --Kirkus Reviews (starred review)

"Brilliant . . . Harrison plumbs complex family relationships and sheds insight on the power of memories and how they shape her characters. Harrison shines with passages of vivid imagery as Polly gains an added dimension of perception from looking at art and photographs. Readers will find themselves wishing this won't end." —Publishers Weekly (starred review)

"Lyrical, profound . . . Recommended for book clubs and fans of complex, literary fiction." —Booklist

"In this exquisitely nuanced, beautifully constructed novel, Harrison draws the reader into young Polly's filtered understanding of her world, rich with happily married couples, vs. the uncertain reality of the adult Polly, coping with memory loss while slowly untangling shocking family secrets. A magnificent gem." —Library Journal