Wedding Bush Road: A Novel (Paperback)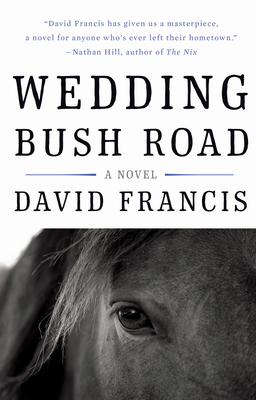 for information about purchasing this book, please contact orders@bookpassage.com
Description
---
A young lawyer in Los Angeles is called back to his family's farm in rural Australia and plunged into a complex struggle between past and present, town and country, and the secrets that haunt them all.

When he learns of his mother's ailing health, Daniel Rawson must leave Los Angeles and travel half a world away to the family's horse farm on Wedding Bush Road, one hundred miles outside of Melbourne. Estranged from his parents, Daniel is hesitant to revisit their history: long divorced, his mother still maintains the farm having put out her cheating, rakish husband, and even in these later years her anger burns brightly.

Daniel arrives at the farm in the heat of his parents' conflict with Sharen, an alluring tenant and ex–lover of his father now perched on family land. Sharen and her unstable son Reggie complicate an already difficult family dynamic while Daniel has to tend to his mother's condition, his father's contentious behavior, and the swell of memory that strikes whenever he visits the farm. As Daniel is increasingly drawn to Sharen, the various tensions across the farm will spark events that cannot help but change them all.
About the Author
---
David Francis, based in Los Angeles where he works for the Norton Rose Fulbright law firm, spends part of each year back on his family's farm in Australia. He is the author of The Great Inland Sea, published to acclaim in seven countries, and Stray Dog Winter, Book of the Year in The Advocate, winner of the American Library Association Barbara Gittings Prize for Literature, and a LAMBDA Literary Award Finalist. He has taught creative writing at UCLA, Occidental College, and in the Masters of Professional Writing program at USC. His short fiction and articles have appeared in publications including Harvard Review, The Sydney Morning Herald, The Age, Southern California Review, Best Australian Stories, Australian Love Stories, and The Rattling Wall. He is Vice President of PEN Center USA.
Praise For…
---
Praise for Wedding Bush Road:

"In prose as severely beautiful as the land depicted, Francis takes us into the bleeding heart of family. Well recommended for many readers." —Library Journal

"Francis's prose is urgent and at times breathless, packed with sense–rich descriptions. Poetic images swirl off the page . . . Wedding Bush Road envelopes us in a strange world where nothing can be taken for granted. This is a rich, beautifully textured novel, unforgettable in its setting and the people who live there." —Los Angeles Review of Books

"A rich and moving and resonant story about the debts we owe to the people and places of our past, with writing so evocative that it feels like burying your face in the Australian soil. David Francis has given us a masterpiece, a novel for anyone who's ever left their hometown." —Nathan Hill, author of The Nix

"David Francis writes with precision and sensitivity about that most complicated of subjects: Home. Amid unforgettable landscapes and characters that are both beautiful and violent, Wedding Bush Road grapples with discontent and restlessness. Francis turns a sharp but generous eye on those who won't leave and those who can't stay, reminding us that family can be the most dangerous place of all." —Mark Sarvas, author of Harry, Revised

"The miracle of Wedding Bush Road is that each deeply flawed character is also right. In the end we come to feel that beneath so much fury, the troubled and idiosyncratic life of each character is driven by a logic that is emotional and likely also moral. That this is the human condition.. Compelling and honest, this is the novel's greatest gift. This is the masterful feat achieved here in these pages."—Mary Rakow, author of This Is Why I Came

"Here's an Australia so tactile that the page itself begins to feel textured. Francis ably tells a story of a man's internal struggle as expressed through conflicts as rooted and primal as the soil. A dynamic and inviting read." —Aimee Bender, author of The Color Master

"Francis proves that this reckless landscape also has a darkly seductive pull...Domestic drama with an offbeat, rural flavor." —Kirkus

"I have known David Francis and his work for a long time, and I think Wedding Bush Road is his best book yet!" —Jane Smiley

"With an eye for the transcendent detail, and a pitch perfect ear, David Francis gorgeously summons a farm in rural Australia. The wonderfully complex relationships among its inhabitants reflect nothing less than the tensions wrought by the country's fractious history of colonialism. Who belongs to the land and to whom does the land belong? These are the uneasy questions raised by this searching, lovely novel." —Marisa Silver, author of Mary Coin

"A psychologically acute tale of the decline of a patrician Australian family and the forces arrayed against them. Class, sex and land knit together in this compellingly modern take on a timeless struggle. Gorgeous, dangerous and utterly captivating. " —Janet Fitch, author of White Oleander and Paint It Black

"Who hasn't packed a bag and headed home? Wedding Bush Road is a beautiful, intelligent book about love, loss, and the unforgettable landscapes that made us who we are." —David Ebershoff, author of The Danish Girl and The 19th Wife

Praise for The Great Inland Sea:

"Arresting and mysterious." —Jane Smiley

"An elegant first novel..the author's evocative images of Australia —the harsh yet compelling landscape, the searing heat, the inescapable dust, the ever present insects — and his spare, elegiac style set this novel apart from most coming of age stories as Day's innocence is refreshed with maturity and hopefulness." — Booklist, Starred Review

"Loneliness and loss well up like groundwater in this spare, haunting novel. David Francis is a master of elegant understatement." —Janet Fitch

"A compelling dance across a stark and evocative landscape. Each step reveals a new perspective on the characters' humanity and, at times, their brutality." —Manil Suri

"A truly amazing novel." —Susan Straight

"as unforgiving and seductive as Riverina itself." —Los Angeles Times

"magically lyrical. . .a truly rewarding literary find." —Denver Post

"...gracefully [and] affecting first novel." – Washington Post

"David Francis may not be a poet, but he sure writes like one. His prose is lean but dreamy, full of sensual detail...It's all done with skill and elegance." – San Francisco Chronicle

"A spare, dark, brilliant book. Clear the day to read it." – Martin Cruz Smith, author of Gorky Park

"Francis's language confirms and compliments the plot. . .The guiding insight of the book [is] that there is something deep, something meaningful, about the process by which humanity is achieved even when so much has been stripped away." —The Believer

"As spare as the outback, this is a quietly evocative and at times even poetic first novel." —Library Journal

"Spare prose, startling images, and an emotional landscape as harsh as the setting." —Kirkus Reviews

"beautiful and moving." —Times Literary Supplement


Praise for Stray Dog Winter:

"Best Book of the Year" – The Advocate – Best Entertainment of 2008

"Best Australian novel of the year." — Australian Literary Review– Best of the Year edition

LAMBDA Literary Award Finalist

Winner Audiophile Award 2008

"Vibrant with the discordant images of political repression and smoldering sexuality, Francis ethereally transports readers to a preternatural time where nothing and no one are what they seem." – Booklist

"Francis's prose has the sparse elegance of a Xeriscape. Every detail holds water." – Los Angeles Magazine

"unstoppable inevitable momentum...a haunting KGB tale" – Time Out Chicago
"An impressive political thriller, beautifully crafted with a spectacular climax." – Australian Book Review

"A stylish new literary thriller. . .Francis does a brilliant job of building and sustaining tension." —The Advocate

"Evocative and mysterious...full of a menacing beauty." – Curledup.com

"[An] excellent thriller....original and unconventional....Francis is masterly at building suspense and a palpable sense of intrigue." – Sydney Morning Herald

"Truly extraordinary. . ..the tension builds unrelentingly. . ..sensuous, musical, a joy to read." —LAMBDA Literary Journal

"Filled with suspense, intrigue, and a good deal of sexiness, Stray Dog Winter is a novel of breathless moments, passion, politics, and atmosphere so thick you can feel it."
– IndieBound: Indie Favorites

"Taut, suspenseful. . ..elegantly written and perfectly executed. . .original, gripping and chilling, by one of Australia's most promising young writers" – Tucson Citizen

"Stray Dog Winter – A stylish thriller."– WBUR Boston – Best Reads of 2008

"astute, beautiful prose. . .poetic." —Sarah Weinman, author of Confessions of an Idiosyncratic Mind

"Elegantly written and grippingly suspenseful, David Francis's Stray Dog Winter takes readers right into the heart of Graham Greene country."– Janet Fitch, author of White Oleander and Paint It Black

"David Francis has pulled off that most difficult of feats—the elegantly–written, lyrical thriller. This is a novel with intensity, a formidable landscape, and a plot that kept me reading all night. Impressive and compulsively readable." – Susan Straight, author of A Million Nightingales and Highwire Moon, finalist for the National Book Award

"If Alan Furst and Edmund White were ever to collaborate, the result would be something as wonderful as Stray Dog Winter. Written with beautiful style and frightening intrigue, David Francis's new novel is a genuine cold war thriller, and a work of art." —David Ebershoff, author of The 19th Wife and The Danish Girl

"Mysterious, intense and passionate, Stray Dog Winter is a chilling snapshot of a lost era, a political thriller, and a book of rare beauty. Like Out Stealing Horses, this story is as stunning word by word as it is in its rich entirety. Not to be missed." —Andrew Sean Greer, author of The Story of a Marriage and The Confessions of Max Tivoli

"This is a wonderful book, the work of a full–fledged talent who deserves to be read widely and well." —Darin Strauss, author of More Than It Hurts You and Chang & Eng

"A literary thriller that melds cold war suspense with startling sexual intrigue, Stray Dog Winter is a fascinating, genre–bending mélange of dark state conspiracies and darker family secrets. Superbly written and profoundly original, Stray Dog Winter is a smart, provocative page–turner." —Darren Star, writer/producer, creator of Sex and the City

"This haunting literary thriller moves through a KGB winter dreamscape with elegance and charged sexuality. Francis is a master at evoking paranoia, dislocation, sexual longing, a past that haunts us, and ties that connect and blind us. Shades of Robert Stone and Graham Greene yet Francis's spare lyric voice is uniquely his own." – Denise Hamilton, author of The Last Embrace and the Eve Diamond crime novels

"Stray Dog Winter is the season in which bad things happen to innocent Australians abroad. This thriller, resonating with deep emotion, is one of the great finds in Australian literature. David Francis is a wonderful writer and one to watch closely. His careful attention to language marks him out as a superb prose stylist and lyrical storyteller." – Brian Castro, award–winning author of Birds of Passage and Shanghai Dancing

"In beautiful, exacting strokes, David Francis restores to life a lost landscape from our recent past, luminously and terrifyingly evoking a time and place of mistrust, deception and fear. A novel that combines high literary art with a riveting narrative, Stray Dog Winter reminds us that there is no more dangerous game than the search for love."
– Mark Sarvas, author of Harry, Revised, host and editor of The Elegant Variation

"A dark, chilly thriller. . .Francis makes you feel every dropping degree. . .Don't ask how it ends. . ." – Lavender Magazine

"David Francis has a surgeon's cold eye and a poet's heart; his prose is powerful, masterful."
– Samantha Dunn, author of Not by Accident

"Francis' gorgeous prose is passionate and pressure filled. His masterful writing delivers a rare kind of delicious suspense, the kind that's only found in the most riveting of novels."
– Yannick Murphy, author of Signed, Matahari and Here They Come

"Moscow, with its icy splendor and bald brutality, is seductively evoked in the pages of Stray Dog Winter. David Francis has created a credible, parallel universe in which nobody, particularly those with whom his protagonist is the most intimate, is what he or she seems. His hero, Darcy, is vulnerable and unfailingly sympathetic; an antipodean answer to Arkady Renko." – Gaby Naher, author of The Truth About My Fathers

"Permeated with a brooding unease, powerfully matched by the palpable cold of winter in Moscow...sinister, suspenseful and beautifully written."
– Debra Adelaide, author of The Household Guide to Dying

"A story that creeps up around you and won't let you go. Hauntingly original and totally compelling. I couldn't put it down." – Jane Turner, writer and actor

"Stray Dog Winter is a remarkable achievement on many levels, from the poetic elegance of the prose to the atmospheric setting of the Russian capital in winter. . .David Francis is a writer of considerable skill. . .he combines a literary style with a compelling narrative about love passion and betrayal." —The Canberra Times

"Stray Dog Winter is a disquietingly well–crafted thriller. . ..indicative of the author's range and authority."– The Melbourne Age