The Globemakers: The Curious Story of an Ancient Craft (Hardcover)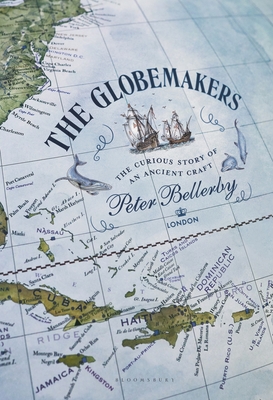 Description
---
The beautifully illustrated story of our globe and the globes it has inspired, told from inside the workshop of one of the world's last globemakers, with 4-color photos throughout.

Most of us encounter a globe--that green and blue, tilted, spherical map--as children. We ask a grown-up, "where are we?" They spin the globe and point to a miniscule dot in a massive expanse of earth and space. A profound convergence of art and science, a globe is the ultimate visualization of our place in the world. To be a globemaker requires a skilled knowledge of geography, engineering, drawing, and painting, and only a few living today understand the craft.

When Peter Bellerby set out to make a globe for his father's 80th birthday, he had know idea where the process would lead. He went on to found Bellerby & Co, one of the only artisan globemaking businesses left in the world. His book brings us inside the studio to learn how he and his team of cartographers and craftspeople bring these stunning celestial, terrestrial, and planetary objects to life. Along the way he tells stories of the great globemakers and globes throughout history.

A gorgeous, full-color photographic portrait of a lost art, The Globemakers is a enlightening exploration of globes, or "earth apples," as they were first known, and their ability to show us ourselves and our place in an infinite universe.
About the Author
---
Peter Bellerby is a world-renowned globemaker and founder of artisan globemakers Bellerby & Co, which won the Queen's Award for Enterprise in the international trade category in 2018 and 2021. The studio has shipped globes to to over 60 countries, and their work has been featured in books, on television, and in countless publications around the world. Peter lives in London with his partner, who helps him run the company. @globemakers
Praise For…
---
"Bellerby & Co. is one of the only remaining ateliers that still makes globes by hand using a meticulous step-by-step process that hasn't deviated much over the centuries ... the end result is worth the wait." —Smithsonian Magazine