Little Guardians (Paperback)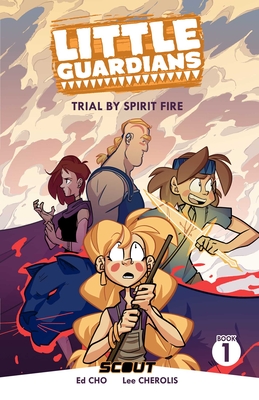 Description
---
Little Guardians is a fantasy adventure that tells the story of two young people switched at birth, unknowingly living each other's lives: One was destined to protect the village from demons and monsters, the other to live a simple life working at the local Item Shop.

When a strange spirit panther starts following Subira around she realizes she may be more than just the local shop girl. The village she lives in is under constant threat from monsters, and the appointed guardian, Tane, can't save everyone alone. Little does Subira know she is actually Tane's daughter and should be fighting alongside him. Can she discover the truth behind her connection to the spirit world in time to help save her village? Combining humor with big adventure Little Guardians is a fun-filled all-ages romp for everyone. Collects the first 6 issues, including the special preview #0 issue.
About the Author
---
Ed Cho is the writer and co-creator of Little Guardians, a fantasy adventure graphic novel series. In 2002 he graduated from the University of Illinois with a BA in Creative Writing and a minor in Film Studies. He currently resides in Fishers, Indiana with his wife and two daughters. From 2007 to 2011, Ed worked on a comic strip about his cats called Al and Scout. He is an active member of IWG (Indy Webcomics Group) and his story "Skeletons in the Elevator" was featured in their 2010 anthology entitled Welcome to Indiana. In addition to writing stories, Ed plays guitar in The Shake Ups and Resounding Maybes. He is the author of the fiction podcast audio drama Ignore City featuring music by The Shake Ups.

A card-carrying member of Commander Mark's Draw Squad, Lee Cherolis is an illustrator and concept designer from Indianapolis, Indiana. Lee is co-founder and organizer of the Indy Webcomics Group, an Indianapolis-based comic artist and writer's monthly meetup since 2007. Lee co-created Little Guardians with Ed and is the main interior and cover artist. Lee's other interests include teaching himself to play bass guitar and drums, voice acting, long distance running, winning chili cook-offs, hiking and camping. His favorite color is music, his favorite food is nearby and his favorite time is now.
Praise For…
---
"...it's an enjoyable series for people that like fantasy stories without the intense adult themes."
— Dustin Cabeal

"I like the characters, the premise, and the art style and will be looking at this series closely in the future."
— Christopher Rondeau