A Christmas Candy Killing (A Killer Chocolate Mystery #1) (Hardcover)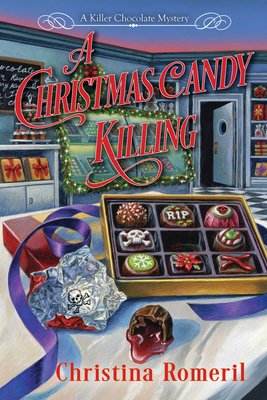 $28.99

Usually Ships in 1-5 Days
Other Books in Series
This is book number 1 in the A Killer Chocolate Mystery series.
Description
---
Their chocolates are to die for—but things aren't so sweet when a real killer comes to town, in this debut mystery perfect for fans of Joanne Fluke and Laura Childs.

Identical twin sisters Alex and Hannah are the owners of Murder and Mayhem, a mystery bookshop that sells their famous poison-themed Killer Chocolates. But now, there's a real killer in their midst. Shortly before Christmas, their septuagenarian neighbor, Jane, confides to Alex that a murderer from a true-crime show has taken up residence in the village. Unfortunately, she's also shared her suspicions with town gossip Netta. The next morning, Alex shows up at Jane's house to watch the show, but instead discovers Jane's body, with a box of Killer Chocolates nearby.

The sheriff quickly zeroes in on two suspects: Alex, a beneficiary in Jane's will, and Zack, a handyman who was seen leaving the crime scene. But Alex maintains her innocence and sets out to draft a list of other potential suspects—townsfolk who'd recently been seen arguing with Jane.

When Alex gets hold of Jane's journal, she begins to understand the truth. But a bearer of ill tidings is arriving early this year—and Alex just might not make it to Christmas.
About the Author
---
Christina Romeril grew up in Kitchener, Ontario and has been devouring stacks of books since third grade when the Trixie Belden series sparked her love of the genre. She has lived on both coasts of Canada as a member of the Canadian military and later as a military spouse. As an Alberta transplant she is fascinated by mountains and loves to spend time with her husband at Waterton Lakes National Park in the Rocky Mountains. When she's not enjoying nature, she loves to create and consume chocolate confections. Not necessarily in that order.
Praise For…
---
Praise for A Christmas Candy Killing: 
"[An] exceptional debut . . . With its inventive premise, this cozy stands out from the pack."
—Publishers Weekly, starred review

"Perfect for those who love mysteries centered around sweets and set in small towns."
—Portland Book Review

"A fun and deftly crafted read from cover to cover."
—Midwest Book Review

"Romeril knows how to put the words on the page to keep readers going."
 —Cozy Mystery Book Reviews

"The perfect Christmas Cozy."
 —Wonder Women Sixty

"Clever characters, mouth-watering chocolates, and an amateur sleuth who won't take no for an answer. This delightful cozy has it all, but watch out before you reach for that tempting piece of candy. It may be the last thing that lingers on your tongue."  
—J.C. Eaton, award-winning author of The Sophie Kimball Mysteries, The Wine Trail Mysteries and the Marcie Rayner Mysteries 

"Set in a small town in the Rocky Mountains of Montana, A Christmas Candy Killing, is a sweet treat of a mystery. The murder mystery bookshop offers specialty chocolates named after famous poisons, a sweet pup named Watson, and the twin proprietors all make for a fun read and an intriguing who-dun-it."
—Nancy J. Parra, USA Today bestselling author of the Wine Country Mysteries

"A scrumptious mystery with likeable characters that will leave you drooling for more." 
—Catherine Bruns, USA Today bestselling author, and Daphne du Maurier Award Winner

"A Christmas Candy Killing draws you in from the first page with its murderous chocolate delights and keeps you guessing until the very end. Twin sisters Alex and Hanna are sleuths you'll be rooting for in this festive debut set in a charming Montana bookshop where veronal vanilla creams and murder are on the menu!"
—Ellie Alexander, author of the Bakeshop Mystery series

"In this delightful cozy debut set in a small Montana town, Alex Wright, co-owner of Murder and Mayhem: Killer Chocolates and Bookshop, investigates the murder of a Sleuth Book Club member who was poisoned by her very own chocolates."
—Marilyn Levinson/Allison Brook, author of the Haunted Library series.