100 Questions for Dad: A Journal to Inspire Reflection and Connection (100 Questions Journal ) (Hardcover)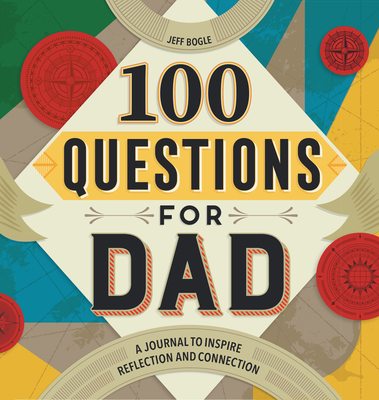 $19.99

Usually Ships in 1-5 Days
Description
---
Create an enduring keepsake for future generations with this guided journal
The memories we share with our families are an invaluable treasure. This reflective dad journal is full of writing prompts that make it easy to record and share treasured stories from Dad, including recollections of his childhood, love and friendship, favorite things, and more. Celebrate special occasions, including birthdays and Father's Day, by giving Dad this charming journal.
One question at a time—Discovering Dad's thoughts and memories is a breeze with the Q&A format.
Learn more about Dad—The questions invite your family to explore topics that range from playful to profound.
For fathers of all kinds—Dads can share their one-of-a-kind perspective through open-ended questions that suit any age and family structure.
Keep Dad's legacy alive for your family inside the pages of this dad fill-in-the-blank book.
About the Author
---
Jeff Bogle has written about parenting, travel, family life, food, culture, and more for The Washington Post, Fodor's, Parents Magazine, Good Housekeeping, Reader's Digest, and Esquire, among others. Find him on Instagram and Twitter @OWTK.
Praise For…
---
"As a father, I often think about what my legacy means to my kids. Jeff Bogle and his book, 100 Questions for Dad, allows us to leave more than possessions or trinkets. It allows us to give a part of ourselves to our children. Who we were, who we are, and what's in our hearts. Stories and thoughts that are more precious than the most expensive work of art in the world. The dad jokes that made us laugh and our voices describing the small moments in our lives that sing a memory. If you're a father, or father to be, do yourself a favor and start your legacy with 100 Questions for Dad." —Shannon Carpenter, award-winning humorist and author of the forthcoming book The Ultimate Stay-At-Home Dad: Your Essential Manual for Being an Awesome Full-Time Father

"Every dad has an origin story, and most of us want our children and grandchildren to know how we came to be. With 100 Questions for Dad, Jeff Bogle offers a set of prompts to document our own lives in bite-size chunks, and a script to elicit tales and lessons from our own fathers, fathers-in-law, and grandfathers. Let's make sure no dad's story goes untold!" —Matt Schneider, co-founder of City Dads Group

"Fatherhood—all parenthood, really—is like trekking in the Himalayas. Soaring peaks! Treacherous valleys! Crystal clear skies! Such horrible weather you can't even see your feet! Jeff Bogle has walked this path, and this book presents the rest of us dads with invaluable tips and tricks for navigating the journey. What makes the work exceptional, however, is how Jeff helps us—with humor, irreverence, honesty, and authenticity. There is no greater #realtalk about fatherhood than the real talk in this book. I plan to give a copy to every dad I know." —Matt Villano, journalist and parenting blogger

"This book is a brilliant concept—a do-it-yourself dad blog that provides a template for sharing your most intimate, weird, and revelatory stories that will delight your kids for generations." —Doug French, cofounder of Dad 2.0 Summit

"Why is it that dads are the absolute hardest people to shop for? Skip the golf tees and ties—with this book, Jeff has created that rare, thoughtful gift that lets any kind of father know he's truly loved and valued, and that his life story matters." —Liz Gumbinner, publisher and editor in chief of Cool Mom Picks, Cool Mom Tech, and Cool Mom Eats and co-host of award-winning Spawned Parenting Podcast with Kristen + Liz