Keto Smoothie Recipe Book: 75 High-Fat, Low-Carb Smoothies and Shakes (Paperback)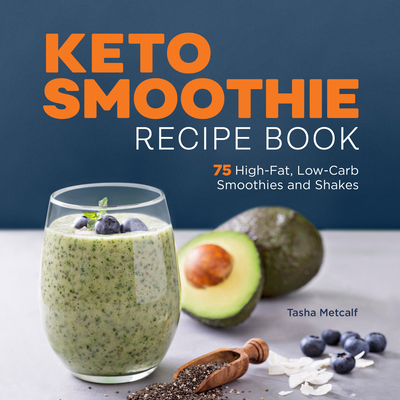 $12.99
Email or call for price
Description
---
Drink your way to ketosis
Going keto doesn't mean giving up the satisfaction or convenience of smoothies. These rich and flavorful recipes toss out traditional ingredients like milk and sugary fruits, offering enjoyable alternatives that will help you keep your carbs low and achieve your health goals.
What sets this healthy smoothie recipe book apart:
Keto smoothies explained—Learn all about the science of smoothies and how they can become an important cornerstone of a successful keto diet.
75 tasty recipes—From Chocolate Hazelnut to Virgin Bloody Mary, discover a full range of ketofied recipes—complete with plenty of mouthwatering photos—that are sure to satisfy.
Clear carb counts—Each smoothie lists its total carb count right at the top of the page, making it easy to find the options that will fit into your day.
Beginner-friendly options—New to the keto diet? Choose from a selection of hydrating and restorative recipes designed to help fight the "keto flu" and keep you feeling your best.
Keep smoothies on the menu with this standout smoothie cookbook.
About the Author
---
Tasha Metcalf is a writer, nutritionist, recipe developer, and founder of Ketogasm.com. She creates healthy, down-to-earth recipes for low-carb and keto dietary patterns using accessible ingredients and unfussy techniques.

Praise For…
---
"Tasha demystifies the art of creating flavorful, nutritious, and totally delicious keto smoothies in The Keto Smoothie Recipe Book. She shows us how to create smoothies that are unique, approachable, and totally craveable. And, she breaks it down into bite-size pieces, going beyond just recipes with invaluable information like freezing tips, equipment recommendations, and suggestions on how to make these amazing smoothies a regular part of your keto lifestyle. A must-have book for any keto fan!" —Jennifer Allen, author of Keto Soup Cookbook, chef and creator of KetoCookingWins.com

"Tasha provides everything needed to make quick and easy keto smoothies and shakes that the whole family will enjoy. There's a wide variety of flavors to suit every taste and plenty of tips for making the recipes perfectly." —Lisa MarcAurele

"I have followed Tasha's blog for many years, so I was super excited to check out her latest book! I was impressed with the variety of smoothies in the book—some are so creative! Instructions are clear, and all recipes have the full macronutrients listed. I think top of my list to try first is the Spicy Hazelnut and Almond Smoothie, the Sparkling Blackberry Spritzer Smoothie, and the Golden Turmeric Protein Smoothie." —Georgina Bomer, Step Away From The Carbs