Essential Succulents: The Beginner's Guide (Hardcover)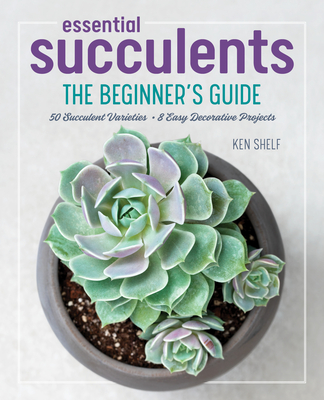 $26.99
Email or call for price
Description
---
Succulent gardens made simple—easy to grow and effortless to design.
In recent years, succulents have become increasingly popular for their low-maintenance use as indoor decoration and in home gardening. In
Essential Succulents
, budding succulent enthusiasts will gain the know-how needed to begin growing, decorating with, and enjoying these amazing plants.
From simple houseplants and drought-friendly landscaping to decorative wreaths and trendy mason jar terrariums,
Essential Succulents
is the ultimate guide to learning which succulents are best for beginners, along with a basic understanding of how to care for and creatively design with them.
Accompanied by beautiful photography of the succulents and projects presented,
Essential Succulents
includes:
50 easy-to-grow succulents that can grow in a variety of environments, as well as a care guide and arrangement tips for each.
8 easy DIY projects that include step-by-step instructions and are listed in order from easiest to more challenging.
Guidance for growing indoor and container succulents , including what they need to thrive—such as the right light, soil, and irrigation.
Instructions for creating outdoor succulent gardens that require minimal maintenance and saves money on water.
Whether you've never cared for succulents before, or are interested in deepening your understanding of them,
Essential Succulents
will give you the confidence you need to explore your succulent-growing passion.
About the Author
---
KEN SHELF is the owner of Succulence, a garden and lifestyle store in San Francisco's Bernal Heights neighborhood. Over the past decade, he has taught numerous classes and workshops on succulents and vertical gardening. In addition, Ken creates masterful succulent centerpieces and arrangements for special occasions and provides custom landscaping and design work throughout the Bay Area.
Praise For…
---
"Dip your toes into the magical world of succulents with Ken Shelf's new book, Essential Succulents. Ken provides simple, understandable, and straightforward information for anyone interested in how these plants work and what they are all about. Plus, his DIY projects give you the lowdown on how to create captivating succulent designs."—Baylor Chapman, author of The Plant Recipe Book

"Essential Succulents gives beginners a great introduction to succulent gardening. Detailed care guides, design notes, and fun succulent projects help the reader create a thriving succulent garden indoors or outdoors. With great photography throughout, this book is perfect for anyone interested in these hardy, beautiful plants."—Salvador Mendoza, owner of Baja Cactus and Succulents

"This beautiful book has great colors and background designs throughout, with excellent images of well-grown, healthy succulents. It's easy to read, offering common names alongside botanical Latin names, and the design projects are fun and easy to do. Readers will enjoy trying their hand at creating their own projects. I especially like the photo index of plants at the end of the book, giving readers a quick reference guide."—Michael Romero, owner of Succulent Designs