Bariatric Slow Cooker Cookbook: Easy Recipes for Post-Op Recovery and Lifelong Health (Paperback)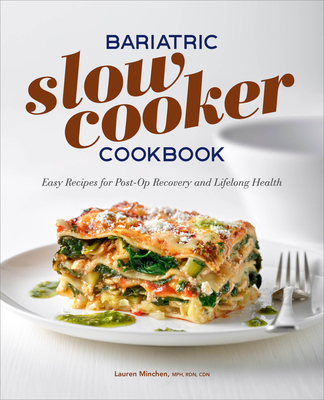 $15.99

Usually Ships in 1-5 Days
Description
---
Recover from bariatric surgery with safe slow cooker recipes
Slow cookers are the perfect option for preparing the soft and simple meals you need as you heal from bariatric surgery. This cookbook shows you how to create satisfying and surgery-safe slow cooker meals in just a few steps—for post-op recuperation and lifelong health.
What sets this slow cooker cookbook apart from the rest:
Essential bariatric information—All 80 of these recipes include nutritional calculations, proper portion sizes, and are marked with the stage of healing they're safe for: liquids, pureed foods, soft foods, and general diet.
Easy prep for every meal—Deciding what to eat is a breeze with 80 recipes that practically cook themselves, so you can focus on rest and recovery, and start building healthy habits for life.
The power of the slow cooker—Learn how to keep healthy meals on hand by slow-cooking in large batches so you can freeze meals for later.
Simplify your transition to life after bariatric surgery with the
Bariatric Slow Cooker Cookbook
.
About the Author
---
LAUREN MINCHEN is a registered dietitian nutritionist based in New York City. She runs her own practice, Lauren Minchen Nutrition, where she specializes in digestive health and autoimmune conditions.
Praise For…
---
"Lauren Minchen is a knowledgeable and wonderful dietitian and nutritionist who I count on to guide my patients to healthy eating. Her cookbook provides nutritious and flavorful recipes for every stage of recovery from bariatric surgery. She provides helpful and practical tips for both the adjusting to post-bariatric surgery eating and for using a slow cooker." —Laura Korin, MD, MPH, family physician

"Lauren Minchen, MPH, RDN, CDN has been my colleague and go-to expert for nutrition advice for over a decade. She has accumulated a treasure trove of knowledge working with clients facing overweight and eating disorders. Her guidance has always been spot-on, helping me solve dietary challenges with my own patients. You will find her compassionate approach to recovering from bariatric surgery and creating a new lifestyle to be inspiring and down to earth. Her new cookbook—chock-full of mouthwatering, easy-to-follow recipes—will help you raise your game 100 percent." —Dr. Christiane Siebert, DACM, founder and clinical director of Serenity Health Arts

"Wow, these recipes couldn't have been easier! Delicious, simple-to-make food for everything from snacks to drinks to treats to entrees! The organization, photos, and variety make this a fantastic cookbook for anyone who's post-op, plus anyone who eats! Way to make things smooth and fun, with something for all." —Francie Webb, doula & lactation educator