Successfully Navigating Your Parents' Senior Years: Critical Information to Maximize Their Independence and Make Sure They Get the Care They Need (Paperback)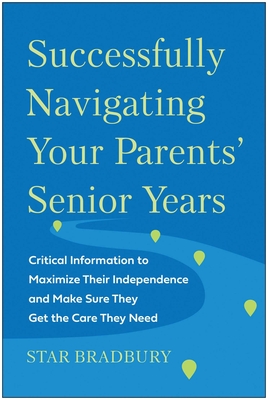 Description
---
No matter your parents' age or stage of life, this comprehensive guide walks you step-by-step through developing a flexible, proactive plan that will allow you to make the most informed decisions for your parents' well-being—and your own.
Millions of Americans are in an active caregiver role or will be in one in the future, yet few have a solid plan for the inevitable challenges of aging.
Whether your parents are in their 60s or their 90s, and whether they have years of health ahead of them or already need more support,
Successfully Navigating Your Parents' Senior Years
provides the framework and information you need to prepare for and handle with confidence the changes to come.
The responsibility of caring for an aging loved one is often daunting—and when trouble hits, the sudden barrage of questions you face can be overwhelming. Have your parents executed their Advance Directives? Do you know what to look for in a senior community (and how to ensure a spot is available when you need it)? If your parents want to stay in their home, what can you do to ensure their safety?
Certified aging life care specialist and CEO of Senior Living Strategies Star Bradbury draws on her 25 years of experience in senior living to bring you an up-to-date, comprehensive guide to navigating the tricky waters ahead—starting with putting a plan in place
now
that maximizes your parents' independence while providing them with the support they need.
Successfully Navigating Your Parents' Senior Years
covers:
How to bring up sensitive topics with your aging parents
Steps you can take to keep your parents safely independent in their own homes for longer
Red flags that indicate your parents may need more help
Senior living options and the key questions to ask in choosing any kind of retirement community
Alternative living arrangements to consider for aging parents, such as senior roommates, cohousing, and/or niche retirement communities
How to get help paying for your parents' medical care (you have more options than you think!)
Legal and financial documents to have on hand in case of a sudden medical emergency
Insider tips, helpful checklists, and more
Don't wait for a crisis to begin planning for the future.
Successfully Navigating Your Parents' Senior Years
is an indispensable blueprint that will give you the tools and knowledge you need to advocate for your parents when they need you most.
About the Author
---
Aging Life Care Specialist® and CEO of Senior Living Strategies Star Bradbury has helped thousands of families make educated and informed decisions as they navigate the world of senior living and senior healthcare. She has 25 years of experience in the industry and is the founder of Senior Living Strategies and an aging life care expert. She specializes in developing resilient and flexible plans that promote independence and focuses on optimal quality of life for elders.