The Golden Brigade: The Untold Story of the 82nd Airborne in Vietnam and Beyond (Paperback)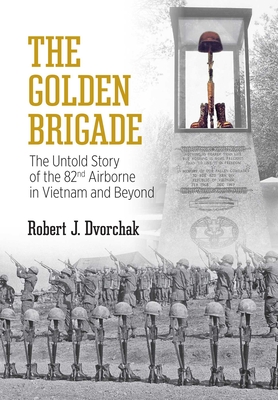 $40.00

Usually Ships in 1-5 Days
Description
---
An epic tale of a brotherhood forged by war—masterfully told by a lifelong journalist, war correspondent, and U.S. Army veteran.

"A must-read by military historians who follow the 82nd Airborne Division. It is a compilation of fascinating stories by brave soldiers who found themselves in the crucible of fierce combat." —LTG (Retired) James H. Johnson, 82nd Airborne Division Commander, Panama and Desert Storm

"This book is the best I have ever read about the real situation experienced by infantrymen in the Vietnam War. The stories honor the American soldier and their families, and demonstrate the pride all of us had in these men and their leaders…. A grand slam hit out of the park." —Robert D. Murrill, Esq., Distinguished Member of the 508th Parachute Infantry Regiment in the Golden Brigade

"It is a story that needs to be told, and one that all paratroopers, young and old, need to know. When the nation calls, there were and must always be those who will answer—even if it means they sacrifice their todays so that others will experience their tomorrows." —J. Thomas Hennessey Jr., Colonel (Retired), Distinguished Member of the 505th Parachute Infantry Regiment, Chief of Staff Emeritus at George Mason University

"A solid chunk of history about an extraordinary brotherhood of warriors." —Vietnam Veterans of America
About the Author
---
Robert J. Dvorchak worked as a journalist for nearly fifty years, including eight years as a New York City–based national writer for the Associated Press. During the First Iraq War, he was a war correspondent assigned to the 82nd Airborne Division, whose commanding general called him the "Ernie Pyle of Desert Storm."

A 1972 graduate of California University of Pennsylvania with a degree in English literature, Dvorchak has covered such stories as the original outbreak of Legionnaires' disease, the Three Mile Island accident, the 1989 earthquake in San Francisco, the Jeffrey Dahmer serial killings, the first World Trade Center bombing, the Oklahoma City bombing, three Super Bowls, two Stanley Cup finals, and two World Series.

An Army veteran, Dvorchak has authored five books, including Drive On, a journal about his personal experiences in Desert Storm. The recipient of numerous writing awards, he is a native of Uniontown, PA, and was inducted into the inaugural class of the Uniontown Area High School Hall of Fame in 2013. Now residing in Penn Hills, he is married and has two daughters and five granddaughters.
Praise For…
---
"This book has touched my soul."
— Leslie B. Hayes, D-1-505.

"It's a masterpiece. People are finally going to know the truth…"
— Frank Cunane, A-1-508

"I got the book at 5:30 p.m., read the first page and didn't put it down until I read all 512 pages. Stayed up all night. Couldn't put it down, You nailed it."
— Tomahawk Ray Rybar, 2-321 Field Artillery

"Outstanding. Accurate. Realistic. Long overdue. Unique. Captures the life, attitudes and motivation of the infantryman. I would recommend your book to anyone. A fine tribute to the Brigade and an excellent addition to the body of literature on the Vietnam War."
— Tom Wallace, B-1-508

"Great job."
— Duke Dewey, intelligence sergeant and the man who gave the name to The Golden Brigade

"The research and detail are outstanding. Job well done!"
— Keith Bell, 2nd Battalion of the 505th Parachute Infantry Regiment

"The author has a keen talent to tell crisp, meaningful and well-written soldier stories that he weaves into a powerful history of the entire Brigade."
— LTC (Ret.) Ralph E. Hayles

"A true work of art."
— Louis Hanlon, 2-321 Field Artillery

"You poured your heart and soul into this book, and it shows. You are the only one who has told this story from the perspective of the guys who were there. Thank you, thank you, thank you."
— John Moreno, B-2-505

"I got your book on a Friday and finished it before the weekend was over. Couldn't put it down. I talked to my wife about it, which I had never done before, and even read some of it out loud to her. I am honored to be included in this history. It definitely has some healing qualities for me. I'm ordering 10 more books."
— Richard Davidson, C-1-505, and a Canadian citizen who volunteered to join the 82nd Airborne

"By far, the best written book about the infantry in Vietnam."
— Von Jennings, B-2-505, recipient of the Purple Heart and Combat Infantryman's Badge

"We are indeed humbled to receive such a special gift in the mail. I have only read the Prologue and I am overwhelmed. The effort, expertise and passion it must have taken to produce something like this is immense, and I'm sure many tears will cover its pages as we pass it around on my part of the family. Thank you so much! My dad was one of the first group of Darby's Rangers and we still wish we could hear more of the stories never told. This book will fill in many empty pages in our minds concerning my cousin, Bob Murrill, though I'm sure we will never see him the same way after we finish it. Again, thank you for the time and hard work it took. You are quite a man yourself. May you receive your reward in Heaven as I'm sure we couldn't do enough to thank you here."
— Mary Lou Hornby

"I have tried to read other books about Vietnam but just couldn't. Your book is the one I can't put down. I have the letters my son sent me from Vietnam, and now I know what places he was talking about. I feel like I was there. You couldn't have done a better job."
— Amelia Zaluski, 92, mother of medic Bernie DeLost

"As a proud son of a Vietnam veteran, I can't thank you enough for writing this book. I know my Dad will love your book."
— Scott Getman, son of Kerry D. Getman, A-1-508

"The book was awesome! All I can say is WOW! WOW! WOW! The more I read, the more I got attached. It felt like I was in the middle of the action, and it seemed like I knew these heroes. While reading the last few chapters, I had tears in my eyes while I was reading about Les Hayes finding and meeting the Conde family. That was an amazing story in itself. I just can't imagine the research and the time you out into this book. You did an amazing job. I am proud to be a friend of yours and proud to be an American. Thank you."
— Ron Deems, Uniontown, PA

"An absolutely captivating book. It makes one feel like they are living the experience. It is impossible not to become emotional about what each person experienced during their tour. Please recommend this to everyone you know. They will thank you."
— Ted Verbus, Phoenix, Arizona

"Let me again congratulate you on a book which will become an heirloom in many a family across the United States. You have captured the stories of many then-young men serving their country in a far off war, stories that risked being lost and forgotten had you not preserved them both for the veterans who lived them and, perhaps more importantly, for their remaining family and their descendants."
— James Callahan, former company commander, D-1-505

"Whatever you got paid to write this, it wasn't enough. Simply masterful."
— Combat photographer John Bell, 45th Public Information Detachment

"This book is absolutely super."
— Bob Schoenecker, 45th Public Information Detachment

"Having been present and having fought in most of the areas described in the book, I can say The Golden Brigade is an outstanding book which I would highly recommend to anyone who wants a true feel for the fighting men in Vietnam. It brought back many memories to me, some smiles to my face and some tears to my eyes. Most of all, it made me finally realize that although there are many reasons why wars are started and waged, that it is not the people in the political boardrooms who do the fighting, but rather the men on the battlefield who answered their country's call to duty, even when drafted for an unpopular war, from every part of this great nation. This is their story, how they saw it, how they fought it, how they died and how they were honored. Thank you for the endless hours you put into writing this book."
— Bruce Rupert, Vietnam veterans with the 173 Airborne and the 101st Airborne, and a high school classmate of William Goodheart, killed in Vietnam while serving with The Golden Brigade

"I have just finished reading The Golden Brigade, and I want to say a heartfelt THANK YOU! The writing is of the highest quality, and tying the stories back to the current events of the day really brought me back to that time. I've been touched by the book. It has stirred a lot of feelings, both good and bad, that I've buried for years and years. I will be ordering two books for my son and daughter. Your book sits in a position of honor with my displayed medals. Airborne, All The Way!"
— Dana Johnson, A-1-508

"It is well-researched, masterfully written and fascinating to read. I couldn't put it down. Thank you for preserving this important historical record while the eye-witnesses were still here to tell their stories. This was indeed a story that deserved to be told. I fear that future generations will hear very little, certainly from a positive viewpoint, of these great Americans."
— David Moseley, attorney at law and former Army officer once stationed at Fort Bragg