Ike in Love and War: How Dwight D. Eisenhower Sacrificed Himself to Keep the Peace (Hardcover)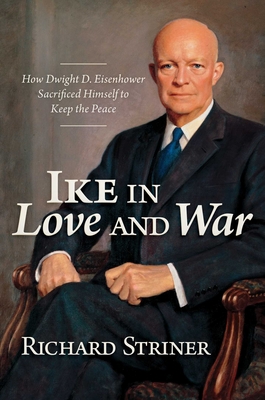 $35.00

Usually Ships in 1-5 Days
Description
---
Dwight D. Eisenhower is one of America's greatest and least appreciated presidents.

Behind the demeanor that made Dwight D. "Ike" Eisenhower so popular was a cold-as-steel intelligence that kept his country prosperous and out of danger. Because his operating methods were so deeply hidden, it is only in the past few decades that historians have grasped the full extent of his achievements.

Ike in Love and War shows the hidden sacrifices that made Eisenhower remarkable. It probes the mission that was driving him: the quest to reconcile his skill as a fighter with his mother's pacifism, which led him to become the greatest peacekeeper of his age.

More than other biographies, this one explores the man's emotions. It puts the long-standing dispute about his romance with Kay Summersby in a new perspective: tragedy.

Here is the story of a unique American, the passion and brilliance he kept concealed, the ambition that propelled him, the sacrifices that wore down his health, and the sheer self-mastery that made it all look easy.

It never was.

His achievements are timely as Americans face unprecedented dangers. This is the story of the world Ike made, the things he achieved, and the surprises that may still be in store for us as we strive to understand his life in full.
About the Author
---
Richard Striner is a writer, scholar, teacher, and civic activist. He served as a professor of history for thirty years at Washington College. The author of over a dozen books, Striner is also the author of numerous magazine and journal articles as well as public affair commentaries and op-eds.

Striner has served as Senior Writer for the Dwight D. Eisenhower Memorial Commission and as a consultant to the World War II Memorial Committee of the American Battle Monuments Commission.

His most recent book is Summoned to Glory: The Audacious Life of Abraham Lincoln. Previous presidential books include Woodrow Wilson and World War I: A Burden Too Great to Bear, Lincoln and Race, Lincoln's Way: How Six Great Presidents Created American Power, and Father Abraham: Lincoln's Relentless Struggle to End Slavery. Striner has contributed to the online New York Times "Disunion" series on the Civil War and has written two cover stories for the American Scholar magazine.
Praise For…
---
"Richard Striner's new book on Dwight Eisenhower presents a groundbreaking look into this genuinely great American leader's sense of self and how and why he is such a defining historical figure. Striner pursues the depths of how Ike accomplished so much for America and the world - much of it unrecognized at the time. Who was this soldier-statesman and who and what shaped and motivated him? These questions and more are answered in this superbly engaging book of great consequence. A book that is especially relevant in our dangerously complicated and volatile world of today. Eisenhower's quiet insightful and courageous leadership is the hallmark of leadership …..all leadership."
— Chuck Hagel, Vietnam Veteran, Former U.S. Senator and Former Secretary of Defense

"Richard Striner is an unapologetic admirer of the man humbly reared in Abilene, Kansas, and who rose to become the most important wartime commander in American history. Eisenhower served two terms as president at the height of the Cold War and was, Striner concludes, 'a masterful president.' Striner's rigorous research and lively writing produce a compelling case for Ike's leadership, in a book that itself is 'masterful.'"
— David A. Nichols, author of A Matter of Justice: Eisenhower and the Civil Rights Revolution, Eisenhower 1956: The President's Year of Crisis, and Ike and McCarthy: Dwight Ei

"Richard Striner's new biographical study, Ike in Love and War, breaks new ground in depicting Dwight D. Eisenhower as the tragic hero of America's modern democracy. Deeply researched and accessible, as well as provocative, it fits old facts into new perspectives and, most useful of all, broadens our understanding of the shrewd, complex, principled, often-misunderstood man who was the preeminent soldier-statesman of our times."
— Philip Terzian, author of Architects of Power: Roosevelt, Eisenhower, and the American Century