She Danced with Lightning: My Daughter's Struggle with Epilepsy and Her Boundless Will to Live (Paperback)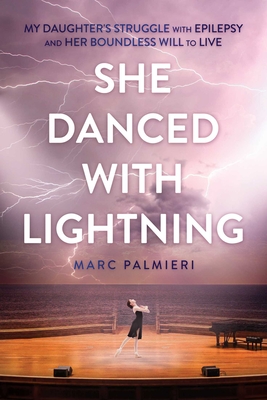 $18.00

Usually Ships in 1-5 Days
Description
---
Part family memoir, part medical mystery involving severe epilepsy, She Danced with Lightning follows one girl's battle to persevere as a competitive dancer, culminating in a terrifying decline, a courageous performance, and an eleventh hour, life-saving brain surgery.

Eleven-year-old Anna has lived all her life with severe epilepsy. Despite the ravage of thousands of violent seizures and heavy medications, she has thrived at school, athletics, and her greatest passion—dance. As she approaches her twelfth birthday, Anna's condition takes a dire turn. Her health declines quickly and a new diagnosis is revealed, leaving the family only one excruciating choice. A parent's memoir about the medical mysteries of epilepsy and the personal suffering of raising a child with a deadly health condition, She Danced with Lightning is told from the perspective of Anna's dream-chasing father, who comes to learn from her a strength and courage he never imagined possible.
About the Author
---
Marc Palmieri is a playwright, actor, screenwriter, baseball coach, and college professor. His plays include Waiting For the Host, The Groundling, Carl the Second, and the New York Times's "Critic's Pick" Levittown (all published by Dramatists Play Service, Inc.). His screenplays include Miramax's Telling You (1999). He has published short fiction in Fiction, and short memoir in Global City Review and (Re) An Ideas Journal. Marc has appeared in many national television commercials, soap operas, and stage productions. He played baseball for Wake Forest University and was drafted by the Toronto Blue Jays, and continues to coach at the high school level. Marc is an assistant professor at Mercy College's School of Liberal Arts in Dobbs Ferry, New York. He has also taught for a decade at The City College of New York's MFA program in creative writing. Marc lives in New York City.
Praise For…
---
"An earnest and personal perspective on one family's medical struggles…Palmieri writes well, using vivid sensory descriptors to immerse readers…He also logically weaves in his own personal story into the narrative…he honestly tells of trying to find himself while also being a caring father."
— Kirkus Reviews

"Marc Palmieri is a masterful storyteller. She Danced with Lightning is a beautifully rendered memoir of a young family in crisis and a marriage challenged on the path to healing. When Anna, Marc and Kristen's infant, experiences seizures, the family embarks on a medical and emotional odyssey that will require a steadfast love and determination to cope with all that lies ahead. A resplendent story filled with hope. Brava."
— Adriana Trigiani, bestselling author of "The Good Left Undone"

"She Danced with Lightning is a game-changer in the literature of medical mysteries in general, and epilepsy in particular. It is also a riveting and emotional thriller, and a can't-put-it-down family drama.

When Anna is diagnosed with a severe form of epilepsy, her parents are hurled to the brink of the unthinkable. What follows is a story of heartbreak and hope, of a father's unwavering love and a daughter's unflinching courage, and of the medical crucible in which both lose themselves, find each other, and are each forever transformed.

Palmieri writes with a playwright's sense of character and ear for dialogue, a screenwriter's pulse for pace, a poet's spiritual questing, an essayist's perceptivity, and a memoirist's divining rod for truth in all its guises. Told with humor and humanity, it will break your heart then put it back together—but somehow better than before."
— Michael Laurence, award-winning actor and Drama Desk Award-nominated author of "Krapp," "39," "Hamlet In Bed," and "Cincinnatus"