The Beatles, The Bible and Bodega Bay: A Long and Winding Road (Paperback)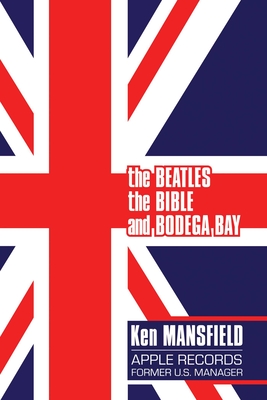 $17.99
Email or call for price
Description
---
The Beatles, the Bible and Bodega Bay presents two portraits: the young man in London on top of the Apple building (and on top of the world!) as he watches the Beatles perform for the last time, and the older man on a remote Sonoma beach on his knees looking out to sea and into the heart of his Creator.

#1 Best Selling Beatles Book – Amazon.com

#2 "Books About the Beatles" – Senior Editor, Rock, Amazon.com
(Beatles Anthology listed as #1)

MAJOR PRESS REVIEWS

Barnes&Noble.com (Kevin Giordano)
"There is something quite Lennonesque about Mansfield's soul-searching—his tales are astonishingly clear and vivid."

Amazon.com (Gail Hudson)
"It is his writing talent and depth of personal story that makes this spiritual memoir rock."

Fox News Channel
"A fabulous book about the Fab Four. It's historical and a must-have."

Publishers Weekly, June 2000
"Eschewing the usual druggy histories of musicians, Mansfield delivers a book that is more philosophical than tell-all. There are enough tidbits to satiate any Beatle maniac,

Library Journal, August 2000
"This is a ruminative and ultimately very personal journey through a man's life and his personal relationships with each member of the Fab Four.

Washington Post, October 2000
"This account is a warm-hearted look at an exciting period, related by an observer who was often at the right place at the right time."

**********************************
*Because of Ken's personal relationship, respect and loyalty to Apple and the Beatles he sought all necessary official and personal approvals from Capitol, Apple, and each of the Beatles including Yoko on John's behalf. At the time of the original release of The Beatles, The Bible and Bodega Bay he was informed that outside of their own Anthology that this was the only book approved by them. Once again, out of that same respect there have been no changes or updates—the content before you is exactly the same as the original book. These are the thoughts and events exactly as they were happening then…a unique insider's look at a time that will never exist again.
About the Author
---
Ken Mansfield has experienced a life that most people have only read about. He was in the heart and heat of the music industry when it was young and vibrant—back when creativity and passion made the music. A simple young man from the Indian reservation lands in Northern Idaho, Ken found himself propelled into the center of a Rock 'n' Roll whirlwind when as a Capitol Records executive the Beatles asked him to be the US Manager of their Apple Record label as well as acting as their personal liaison between the UK and the US. When the Beatles breakup seemed inevitable, he moved on to become a Vice President at MGM Records and then President of Barnaby Records a CBS label owned by Andy Williams. Wanting to fly even higher and faster, he left the corporate world to set up his own company, Hometown Productions Inc., where he produced famous artists of that era such as Waylon Jennings, Jessi Colter, Don Ho, David Cassidy, Claudine Longet, Nick Gilder, The Flying Burrito Bros. and more.

Ken is the author of six books including the top selling The Beatles, The Bible and Bodega Bay (Broadman and Holman) and The White Book (Thomas Nelson). Other titles include, Between Wyomings (Thomas Nelson), Stumbling on Open Ground (Thomas Nelson), Rock and a Heart Place (Broadstreet) and Philco (Post Hill Press). Ken now lives, loves and writes on the beautiful Florida gulf coast with his wife Connie.