Faucian Bargain: The Most Powerful and Dangerous Bureaucrat in American History (Paperback)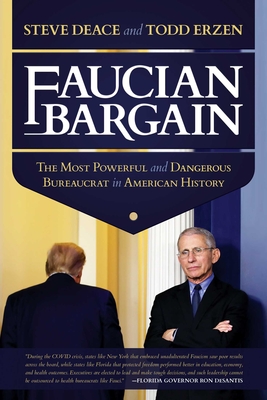 $15.99

Usually Ships in 1-5 Days
Description
---
As seen on Tucker Carlson Tonight
As heard on Glenn Beck

"In this important book the authors do the job our uninquisitive media has failed to do throughout this ordeal. Confirming with cited and sourced details the enemy of both liberty and logic the lockdowns have proven to be. Which also proves too much power in the hands of an unelected bureaucrat, regardless of his intentions, can no longer be our new normal." —U.S. Senator Rand Paul (KY)

Can liberty survive in the hands of one all-powerful, unchallenged, and unelected bureaucrat?

It wasn't too long ago that the average American didn't know who Anthony Fauci was. Now, after the coronavirus has spread nationwide, he's arguably the most powerful bureaucrat in American history. But is it dangerous for a free society to concentrate so much power in the hands of an unelected official? Who or what holds Fauci accountable?
About the Author
---
Steve Deace is the author of numerous books, including the #1 bestseller Faucian Bargain: The Most Powerful and Dangerous Bureaucrat in American History. His 2016 book, A Nefarious Plot, was adapted into a major motion picture. He's also written for numerous national publications and worked on political campaigns from school board to president of the United States. He hosts the Steve Deace Show, one of the top one hundred daily news podcasts in the country, for The Blaze. He lives in Iowa with his wife and children.